Lockheed Martin, the military airframer best known for advanced fighter aircraft such as the F-35 Lightning II and F-22 Raptor, now wants to apply its battlefield expertise to a different form of combat: the war against wildfire.
Climate projections indicate warmer years ahead for the Earth, which may bring worsening droughts and more-destructive wildfires to parts of the globe. That challenge was particularly apparent during the opening week of June, when early summer blazes in Quebec blanketed major US cities in a haze of wildfire smoke.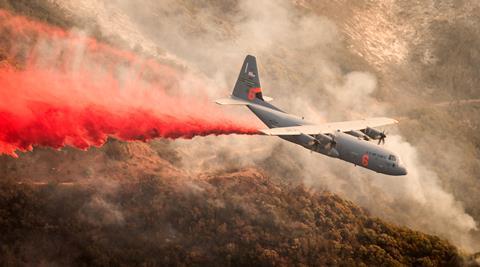 Lockheed chief executive Jim Taiclet describes the hazard posed by such fires, including both physical destruction and the environmental impacts of smoke, as among the 21st century security challenges companies like Lockheed are trying to address.
"The mission here is, how can we help predict, detect and suppress wildfires much better than we ever could before, with what we have today?" he says.
Wild-land firefighters from as far as South Africa have flown to Canada to help combat fires in Quebec. Lockheed now wants to take its experience enabling battlefield commanders and pilots to communicate and make decisions and apply similar tools to hazardous work of fire crews.
"Just as soldiers or fighter pilots need information delivered quickly and accurately to engage threats, so do wild-land fire commanders, analysts and suppression teams, to make effective decisions as conditions change," says Amr Hussein, vice-president of C4ISR programmes at Lockheed Martin.
Hussein, who lives in the USA's fire-prone state of Colorado, thinks tools Lockheed has developed for intelligence gathering and communications on the battlefield can be applied to detecting fires and deploying response resources.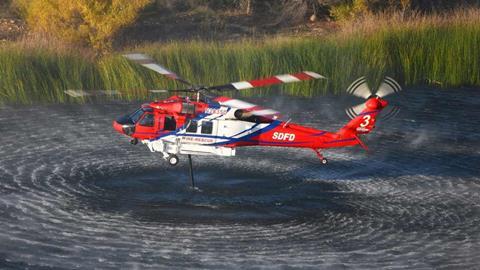 "We're looking at how advanced technologies like artificial intelligence, machine learning and aerial-planning-decision aids can accelerate a crew's ability to analyse data from space, air and ground assets," Hussein says.
Lockheed's theory is that these technologies will provide "near real-time actionable intelligence" to fire bosses, helping them make "faster, more-informed decisions." Such efforts could include locating and mapping fires more quickly and developing prediction tools to more-accurately forecast a fire's behavior and path.
Hussein says such work is a natural progression for Lockheed, which already produces aircraft used in fire suppression, including the C-130 Hercules tactical transport and S-70i Firehawk helicopter – a variant of subsidiary Sikorsky's venerable UH-60 Black Hawk.
Fighting large forest fires is a massive enterprise, often involving fleets of modified Boeing DC-10 and C-130 water bombers dropping chemical retardant or water atop hot burning zones.
Smaller aircraft deploy paratrooper-style teams of firefighters called smoke jumpers into remote or hard-to-access areas. These parachute-firefighters jump from a variety of platforms, according to the US Forest Service, including the De Havilland Canada DHC-6 Twin Otter, Short C-23 Sherpa, CASA C-212 Aviocar and Dornier 228.