Manila has taken delivery of four Embraer A-29 Super Tucano close air support aircraft, part of a 2017 deal for six examples.
After a transit from Brazil, the four aircraft reached Clark International airport on 29 September, according to the Department of Foreign Affairs of the Philippines.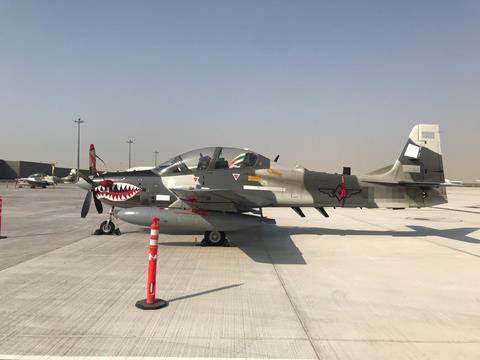 A report by the official Philippine News Agency cited the Department of National Defense as saying that the two remaining aircraft are in New Delhi, awaiting clearance to fly to Clark.
Original plans had called for the aircraft to be delivered in July, but the coronavirus pandemic forced a delay.
After departing Sao Paolo in Brazil, the aircraft made stops in the Canary Islands, Portugal, Malta, Egypt, the United Arab Emirates, India, Bangladesh, Thailand and Vietnam.
Embraer crews conducted the delivery flight. Following the arrival of the aircraft, Embraer pilots will provide training to Philippine air force (PAF) pilots.
"Four A-29 Super Tucanos have now arrived at the Clark Air Base, in Philippines, and Embraer has started the delivery process of these aircraft to the Philippine air force, which should be concluded over the next few weeks," says Embraer. "In November 2017, a firm order of six A-29 Super Tucano light attack and advanced training aircraft for the Philippine air force was made after a comprehensive public bidding process."
The company adds that the Super Tucano is a "durable, versatile" platform that can operate from unimproved runways, and that it has been selected by 15 air forces.
In service with its latest customer, the Super Tucanos will join the 15th Strike Wing in support of the Vietnam War-era Rockwell OV-10 Bronco. Cirium fleets data indicates that Manila operates seven OV-10s.
"They are a welcome and much-needed replacement for the PAF's aged, close air support aircraft, and their mission versatility and capability to carry a variety of ordnance will be very useful in the field," says the report citing the defence department.
Manila has a pressing need for precision strike capabilities owing to a simmering revolt by Islamic separatists on the southern island of Mindanao.
Its shortcomings in this area were highlighted during a five-month battle against militants in the town of Marawi in 2017. A lack of precision munitions slowed the army's campaign to retake the town, resulting in an extended campaign and significant collateral damage.
Manila also has a requirement for six attack helicopters. Rivals for this include the Bell AH-1Z Zulu, Boeing AH-64E Apache and the Sikorsky S-70i Armed Black Hawk.
Separately, NATO has announced that the USA had has delivered four additional Super Tucanos to Afghanistan's air force, under the auspices of the Alliance's Resolute Support Mission to develop Kabul's military.
Overall, the USA has provided 18 Super Tucanos to Kabul since 2016, with plans to transfer an additional six in February 2021, says NATO.