NATO has declared initial operational capability on the military alliance's fleet of Airbus Defence & Space A330 Multi-role Tanker Transport (MRTT) jets.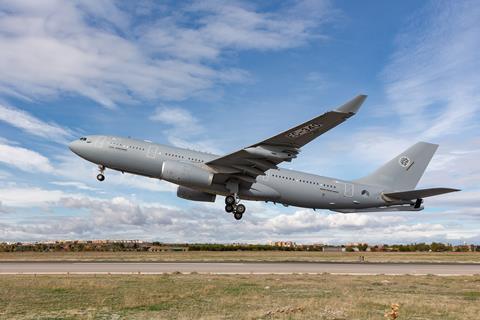 The secretary general of the Western security pact, Jens Stoltenberg, on 23 March said NATO's MRTT fleet is "now ready for a full range of missions" from their hub at Eindhoven air base in the Netherlands.
"These aircraft will provide us with world-class air-to-air refuelling, air transport and air medical evacuation capabilities," Stoltenberg says.
Seven of the 10 MRTT refuellers NATO plans to procure are now operational. Airbus delivered the first MRTT to NATO in 2020. The eighth and ninth aircraft are expected in 2024, with the final jet arriving in 2026.
While the vast majority of the alliance's military forces are sovereign troops contributed by member countries, the fleet of MRTT aircraft will be owned and operated directly by NATO.
The aerial tankers, officially known as the Multinational MRTT Fleet (MMF), are controlled from a NATO operations centre in the Netherlands. Belgium, the Czech Republic, Germany, Luxembourg, the Netherlands and Norway contribute personnel to the MMF.
Stoltenberg describes the tanker aircraft as the "backbone of allied air power".
"Most importantly, the fleet has already proven its value," the former Norwegian prime minister says. "Since Russia's brutal invasion of Ukraine, these tanker transport aircraft have helped to protect NATO's eastern flank."
NATO says the MMF aircraft flew more than 500 missions in 2022, "refuelling hundreds of NATO fighter jets".
In addition to European airspace security patrols, the alliance notes the MMF tanker/transports supported the 2021 evacuation of civilians from Afghanistan and deployed to the Indo-Pacific for exercises with key NATO partners, including Australia.
In 2023, NATO says its tanker fleet will deploy to the Middle East to support operations against the Islamic State terrorist organisation.
The alliance also operates its own fleet of 14 Boeing E-3 Sentry airborne early warning and control jets and three Boeing C-17 strategic transports.