The first US Navy (USN) Boeing E-6B Mercury command and control aircraft has begun receiving the Block II series of upgrades at a Northrop Grumman facility in Lake Charles, Louisiana.
The USN said on 31 May that Block II consists of six modifications to improve the aircraft's command, control and communications functions connecting senior leaders with strategic and non-strategic forces.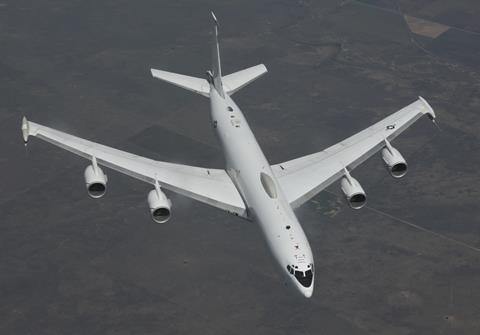 The Mercury is built on a modified Boeing 707 and designed to deliver survivable, reliable and endurable airborne command, control and communications for the president, secretary of defence and US Strategic Command in the event of a nuclear strike.
In the USN, the Mercury fleet connects launch authorities with the USA's fleet of nuclear-armed ballistic missile submarines. A also known by the acronym TACAMO – Take Charge and Move Out – the aircraft are operated by the USN's Strategic Communications Wing One (SCW-1), based at Tinker AFB in Oklahoma.
"Our number one priority is ensuring SCW-1 accomplishes its mission – providing assured airborne strategic communications – and that the president is always connected to his nuclear forces," says E-6B programme manager Captain Adam Scott.
That work is part of an Integrated Modification and Maintenance Contract (IMMC) awarded in February to Northrop. The effort focuses on fielding improved airborne strategic communications sooner.
"This is an important event because it's the first time a single company will be responsible for executing the entire installation," says Bob Stailey, E-6B deputy programme manager. "NGC Lake Charles built an integrated modification schedule that implements efficiencies and lessons learned from previous efforts."
The previous modification contract was executed by two separate contractors and US Naval Air Systems Command personnel with a 19-month average turnaround time. With this new IMMC, the USN says it anticipates ultimately reducing modification timeline to a six-month turnaround by Northrop.
The first E-6B entered Northrop's Lake Charles facility for the Block II upgrade in May, according to the USN. A six-month timeline would have the first aircraft completed in November or December 2022, assuming no delays arise.
"We are laser focused on providing the most relevant capabilities while improving mission readiness," Mary Petryszyn, president of Defense Systems at Northrop Grumman, said when Northrop was awarded the contract in February.
The USN has 16 in-service E-6B TACAMO aircraft, with an average age of 32.5 years, according to Cirium data.
The US Air Force operates a separate fleet of E-6Bs meant to oversee nuclear-armed strategic bombers and land-based intercontinental ballistic missiles.