Northrop Grumman will develop the prototype of a new system that enables improved communications among diverse platforms.
The company labels the system gatewayOne, and is undertaking the work under the US Air Force's (USAF's) Advanced Battle Management System (ABMS) effort, following a contract with the service's Life Cycle Management Center.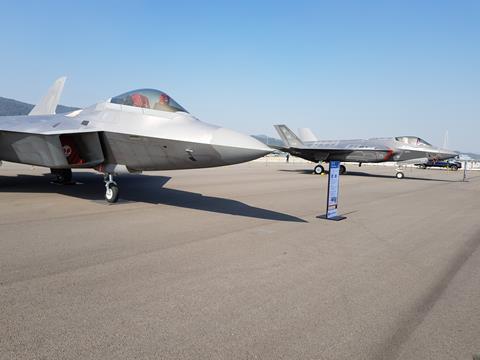 "Northrop Grumman is providing engineering, management and technical assistance for the air force's integration of net-centric 5th-to-5th generation aircraft communications capabilities and other platforms into a modular, open-architecture gateway," says the company.
A flight-representative configuration will take place in an integration laboratory, followed by an airborne demonstration after four months. The rapid pace of development is part of a USAF initiative to develop ABMS prototypes in short sprints. Northrop has not disclosed a contract value.
ABMS is envisaged as a communications network linking aircraft, satellites, ships, ground vehicles and command and control stations. It will allow the sharing of battlefield information directly and in real time, instead of relying on fractured communications systems that are specific to certain types of aircraft and armed forces.
The USAF operates two fifth-generation types: the Lockheed Martin F-35 and F-22. Longer term, ABMS is seen as linking these two types as well as a diverse range of other aircraft, naval assets, and ground units. The USAF hopes that ABMS will become the sole network of all US military services, but the US Army and US Navy have yet to commit.
In addition, Northrop adds, the capability could help network proposed "attritable aircraft", which will be affordable unmanned systems that accompany manned aircraft in challenging combat scenarios.
While ABMS holds great promise for networking diverse assets, it recently came in for criticism from the US Government Accountability Office (GAO). In an April report, the GAO contended that the initiative lacked organisational structure in areas such as establishing detailed plans and overall cost estimates.