Defence contractor Northrop Grumman has been selected by the US Air Force (USAF) to develop a new air-to-ground missile that could be used to destroy enemy air defence assets.
Northrop on 25 September said it received a $705 million contract from the USAF to develop the Stand-in Attack Weapon (SiAW), which the company will spend three years designing and testing.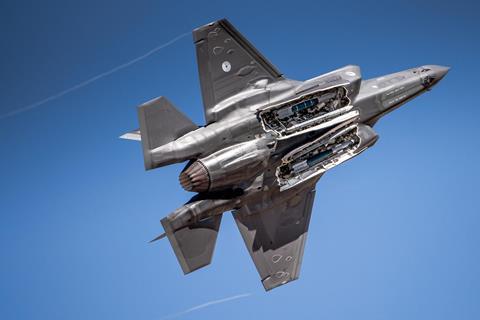 The weapon development contract is the latest move in a broader Pentagon effort to modernise the USA's arsenal of precision armaments.
"This next-generation missile represents an adaptable, affordable way for the Department of Defense to buy and modernise weapons," says Susan Bruce, Northrop's vice-president of advanced weapons.
However, the SiAW differs from other precision munition programmes in one key aspect.
Much of the Pentagon's weapons modernisation effort is focused on developing new, ultra-fast hypersonic missiles or extending the range of existing munitions to create so-called "stand-off" weapons – meaning missiles launched from well outside the range of hostile air defences.
By contrast, the SiAW is meant to be fired at short range from inside an enemy's air defence network, using stealth aircraft capable of penetrating defended airspace.
Stealth fighters such as Lockheed Martin F-35s could theoretically slip undetected past hostile air defences, identify critical infrastructure, such as radars, command nodes or missile batteries, and destroy those targets using an SiAW.
Northrop describes the new munition as intended to strike "rapidly relocatable" assets that form a web of enemy "anti-access/area-denial" (A2/AD) systems.
The A2/AD strategy has become a fixture of China's military strategy to counter the USA in the Indo-Pacific region. The concept relies on large numbers of low-cost, long-range missiles that can threaten high-value, low-density assets such as aircraft carriers and strategic bombers.
Stealth aircraft, armed with air-to-ground precision munitions like the SiAW, could potentially disrupt A2/AD networks, opening gaps through which more numerous fourth-generation fighters and non-stealthy bombers could flow.
The USAF is targeting 2026 for initial operational capability on the SiAW programme.
Northrop also produces the US military's current go-to missile for the suppression of enemy air defences mission – the AGM-88E Advanced Anti-Radiation Guided Missile (AARGM), which also comes in an improved, extended range variant called the AGM-88G ARRGM-ER.
That weapon system is the successor to the Raytheon AGM-88 High-speed Anti-Radiation Missile, which Washington has provided to Ukraine for strike missions against Russian air defence assets in the ongoing war.