MRO provider Pacific Propeller International (PPI) will replace the propeller barrels on the US Air Force's (USAF's) fleet of legacy Lockheed Martin C-130H Hercules tactical transports.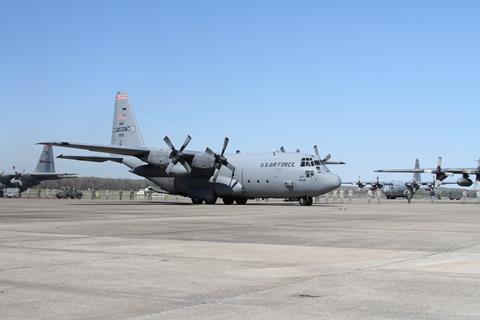 The Washington state-based firm said on 13 February it has received an "urgent contract" from the USAF to replace propeller barrels on C-130Hs still equipped with the legacy Hamilton-Standard 54H60 propeller system.
"The propeller barrel is the foundation of the 54H60 propeller system, whereby all other components such as blades, sub-assemblies and propeller controls are mounted to create this venerable propulsion system," PPI says.
The USAF last October temporarily grounded more than 100 of the tactical transports following the discovery of cracks on multiple propeller barrel assemblies. The no-fly order was specific to C-130H models using the older, four-bladed 54H60 propeller.
Newer C-130Js, which use the six-bladed GE-Dowty Aerospace R391 propeller, and C-130Hs upgraded with the newer propeller systems, were not impacted.
Pacific Propeller says its maintenance contract covers inspection of propeller barrels, disassembly, removal, non-destructive testing, rework, plating, acceptance, preservation and packaging.
"This urgent contract will cover all required overhaul tasks and ensure a more rapid recovery and quicker return to operational readiness for the USAF," the company says.
The contract with PPI opens a second overhaul line to perform depot-level maintenance on the ageing USAF C-130H propellers – with the first being at Robins AFB, Georgia.
Pacific Propeller says its additional capacity will provide "much needed relief" to that facility, which it describes as the only USAF site with the equipment necessary to inspect, test and overhaul propeller blades and assemblies.
"Providing this maintenance relief to Robins Air Force Base means improved fleet readiness and recovery of these national security assets to the air," says Jared Flynn, general manager of PPI.
Pacific Propeller is the only commercial MRO repair station licensed by Raytheon Technologies subsidiary Collins to perform work on the 54H60 propeller.
The firm on 1 March was separately awarded a Department of Defense foreign military sales contract to offer 54H60 overhaul services to overseas users of the C-130H.
"The C-130 Herc is without doubt one of the hardest-working airframes anywhere in the world in both civilian and military roles," says PPI vice-president of sales Buddy Tobin. "With such a workhorse comes a tremendous need for quality propeller MRO services."
Dozens of militaries around the world operate the type, according to Cirium data, including countries in Africa, Europe, the Middle East, the Asia-Pacific and South America.