Pratt & Whitney (P&W) has landed another contract, this one worth $5.2 billion, to support its production of the F135 engines that power Lockheed Martin's F-35 Joint Strike Fighter.
The new award will "support production of the 15th and 16th lots of F135 engines, with an option to award a 17th lot, powering all three variants of the F-35," P&W said on 6 March.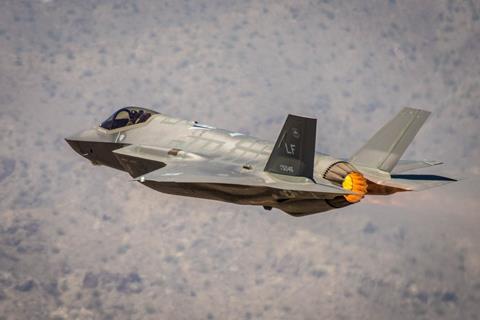 The deal has a value of $5.6 billion, it adds.
"The lots 15-17 production contract funds production of 278 F135s with an option to order up to a total of 518 engines," P&W says. "The contract also includes program management, engineering support, production support and tooling."
P&W vice-president of the F135 programme Jennifer Latka calls the latest deal a "major milestone for the" F135 programme.
The engine maker did not respond to a request from FlightGlobal for more details.
News of the contract comes several days after P&W disclosed it had developed a fix for an "harmonic resonance" issue that prompted a grounding of an undisclosed number of F-35 jets following a crash in Fort Worth last December.
The US government says it is modifying all its F-35s to have that fix.
Meanwhile, P&W is separately urging the US government to commit to funding an upgraded F135 engine – improvements that would make the engine throw off more electric power, as needed for the F-35's increasingly power-hungry electronics.
At the same time, GE Aerospace has been advocating that the US Department of Defense instead hire GE to provide a new engine to replace the F135.