Pratt & Whitney (P&W) has started modifying engines in some Lockheed Martin F-35s to address an issue that left some of the fighters grounded in recent months.
"What we have done now allows the fleet to fly safely, and allows us to continue deliveries," P&W vice-president of F135 programmes Jennifer Latka said on 28 February of the engine modification.
P&W is now implementing the change on "fielded" powerplants, she adds. "For sure, we are going to be retrofitting some jets."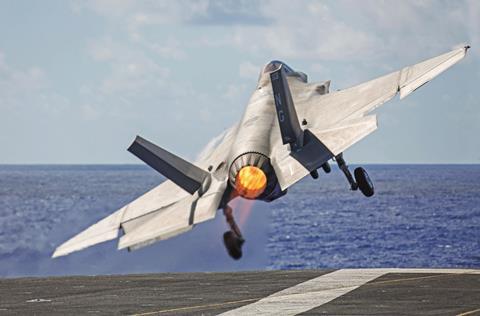 The US Department of Defense (DoD) grounded an undisclosed number of F-35s after a Lockheed-owned F-35B – the vertical take-off and landing variant of the fifth-generation fighter – crashed on 15 December last year in Fort Worth, Texas.
The pilot ejected after seeming to lose control just as the aircraft touched down after a vertical descent. The incident also prompted Lockheed to halt F-35 deliveries.
The US government's F-35 Joint Program Office (JPO) later said the crash resulted from a "harmonic resonance" issue affecting the aircraft's P&W-made F135 engine.
"Think of it as a vibration," Latka says, noting the problem arose after F135s had logged more than 600,000h of flight time. The issue occurs at "a certain frequency and certain amplitude" – when multiple parameters converge to create a "very rare systems phenomenon", she says.
Harmonic resonance is not an unknown engine issue, but the specific incident raised "new design learning", Latka adds. "To some degree, yes, we have dealt with this before, but there are new aspects… to what happened in December."
P&W has since developed a fix, which it incorporated into new-production engines ahead of resuming F135 engine deliveries on 18 February. The company is now making the update to affected in-service F-35s.
"We were able to quickly develop a very elegant, immediate resolution that allows the pilot to fly safely," Latka says.
She describes the update as a relatively quick fix, adding: "We are not going deep into the core of the engine."
Latka declines to provide more details, nor to say whether P&W intends to retrofit engines across the entire F-35 fleet.
The JPO also declines to disclose more details about the problem or solution.
"The government is currently working to provide instructions to the fleet and to Lockheed Martin, to enable safe resumption of flight operations of impacted aircraft and new production aircraft," the JPO says. "The potential for the harmonic resonance issue occurring was limited to a small number of aircraft.
"The actions the government and industry team are taking will ensure incorporation of mitigation measures that will fully address [and] resolve this rare phenomenon in impacted F135 engines," the programme office adds.
Lockheed declines to answer questions about the engine issue and fix, saying only: "We continue to work closely with the Joint Program Office to determine next steps for resumption of F-35 flight operations and deliveries."