The US Department of Defense (DoD) is once again accepting new deliveries of Lockheed Martin F-35 fighters, which had been on hold since one of the advanced aircraft crashed in December.
The Pentagon's F-35 Joint Program Office (JPO) said on 14 March that the DoD has resumed acceptance of F-35 aircraft from Lockheed.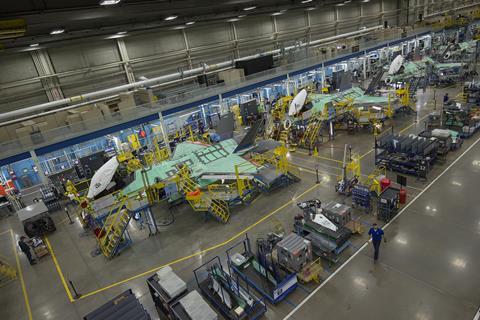 "[We] are currently working with the US services, partner nations and Foreign Military Sales customers on the movement of aircraft to their operational units," the JPO says.
The office notes it approved all of the aircraft for operational use after the jets passed "extensive technical and flight worthy checks".
The DoD had stopped accepting new F-35 airframes after a short take-off and vertical landing F-35B crashed during pre-delivery flight trials in December. The pilot in that incident ejected at ground level, following a failed vertical landing attempt.
Shortly after, Lockheed and the Pentagon grounded all F-35 airframes with under 40h of operational use. The cause, according to the jet's engine maker Pratt & Whitney (P&W), was later determined to be a previously unknown issue in the F135 power plant that caused unwanted harmonic resonance.
"Think of it as a vibration," says Jennifer Latka, P&W vice-president of F135 programmes. She notes the issue occurs at "a certain frequency and certain amplitude" – when multiple parameters converge to create a "very rare systems phenomenon".
The engine maker identified the cause of the problem in February and developed a "mitigation measure". P&W has since resumed deliveries of new F135 engines to Lockheed and begun modifying existing F-35s with the fix.
That paved the way for Lockheed to resume flight operations on pre-delivery F-35 airframes, which the company announced on 6 March.
A week later, the Pentagon is satisfied the problem has been resolved and the 10-week pause has concluded.
"The government and industry team worked tirelessly on this effort and their work demonstrates true professionalism and a devotion to accomplish complex missions with stringent ingenuity," says Lieutenant General Mike Schmidt, programme executive officer at the F-35 JPO.
Lockheed praised that effort, saying it remains committed to providing safe and effective equipment to American and allied personnel.
"Collaboration and partnership have been on full display as the joint team determined solutions and resumed F-35 deliveries," says Bridget Lauderdale, vice-president and general manager of Lockheed's F-35 programme.
The defence giant says it has continued producing jets during the two-and-half month flight pause and the disruption will not prevent it from meeting contracted delivery obligations.
Lockheed missed its F-35 delivery target for 2022 by seven jets, which executives – including chief financial officer Jay Malave – attributed to the flight hold during the firm's fourth-quarter earnings call on 25 January.
The airframer delivered 141 F-35s in 2022 – and set a 2023 goal of shipping 156 of the single-engined fighters.
Lockheed's head of international business development, Steve Over, recently told FlightGlobal the company would complete delivery of Australia's final F-35s in 2023.
"We'll deliver the remaining 12 aircraft before the end of this year," he said at the Avalon Airshow near Melbourne.
Australia plans to declare full operational capability on its fleet of 72 F-35As by the end of 2023.