For the first time, the public is getting an aerial view of the mysterious Chinese balloon that transited North American airspace during the first week of February.
The US Department of Defense (DoD) on 22 February released a photo of the airship – which defence officials say was a spy platform – taken by a US Air Force (USAF) pilot.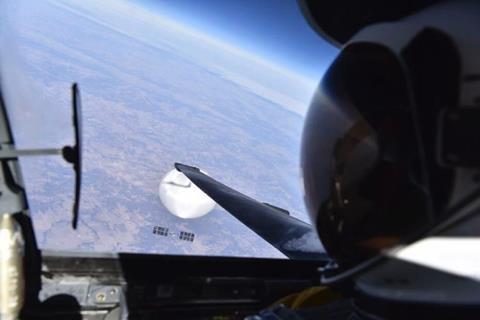 The image is a "selfie" taken from the cockpit of a Lockheed Martin U-2 spy plane by the aircraft's pilot. Washington confirmed on 9 February that the high-altitude jets had been used to observe the balloon, which was shot down on 4 February.
The image was first published by British aviation journalist and self-described U-2 enthusiast Chris Pocock on 21 February.
Rumours of the U-2 selfie had been circulating for several weeks before defence officials finally acknowledged its existence. US television network CNN first reported the photo on 8 February, noting the image had gained "legendary" status within the Pentagon and North American Aerospace Defense Command.
DoD deputy press secretary Sabrina Singh confirmed the authenticity of the U-2 cockpit snapshot on 22 February. The USAF says the photo was taken above an unspecified portion of the continental USA.
As FlightGlobal reported on 10 February, U-2s were used to observe the Chinese balloon due in part to their ability to "routinely" fly at altitudes exceeding 70,000ft, according to the USAF.
At such heights, the service says its U-2 pilots wear astronaut-like full-body pressure suits. Such a suit is visible in the balloon selfie, with the pilot wearing the signature full-face helmet and yellow flight suit associated with the type.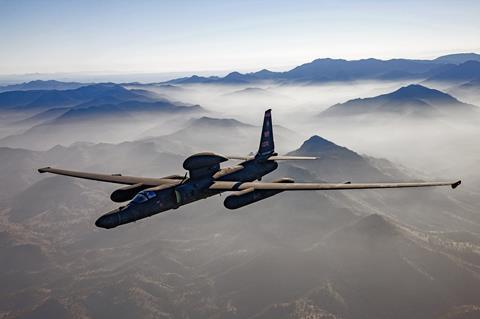 The Chinese surveillance balloon was downed at an altitude between 60,000ft and 65,000ft, according to the Pentagon. While a Lockheed F-22 fighter flying at 58,000ft fired the missile that downed the airship, the U-2 is the only active aircraft in the DoD inventory capable of operating at altitudes similar to the balloon.
Notably, the U-2 cockpit photo showing the balloon was taken from a vantage point above the dirigible.
Typically, the US military is not legally authorised to conduct intelligence-gathering operations on domestic territory. DoD officials – including the head of US Northern Command, which led the response – say they were given special approval to use surveillance platforms such as U-2s and Boeing RC-135 Rivet Joint jets to monitor the balloon within US airspace.
"Specific authorities were granted to collect intelligence against the balloon," says USAF General Glen VanHerck.
Beijing initially apologised for encroaching into US airspace, but continues to deny the balloon was intended for military or intelligence purposes, instead calling it a tool for collecting weather data.