The Pentagon is sharing details on what it calls a "sharp increase" in aggressive intercepts of US and allied military aircraft by Chinese fighter jets.
Senior officials at the US Department of Defense (DoD) on 17 October released a collection of declassified images and video from the two-year period between 2021 and 2023.
The materials depict several incidents in which fighters from China's People's Liberation Army (PLA) approached US military aircraft over the South and East China Seas. The Pentagon says the Chinese jets repeatedly closed within dangerous distances of the American aircraft, with just 3 metres (10ft) of separation in one case.
More than 180 such intercepts have been documented since 2021, involving US aircraft the Pentagon asserts were operating lawfully over international waters.
"That's nearly 200 cases where PLA operators have performed reckless manoeuvers, or discharged chaff or shot off flares or approached too rapidly or too close to US aircraft," says Ely Ratner, the US assistant secretary of defense for Indo-Pacific security affairs.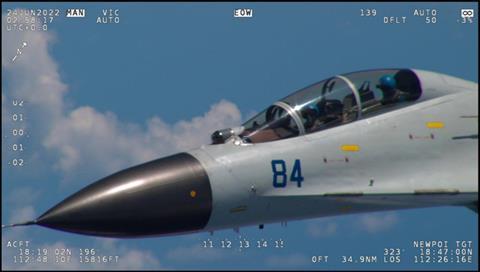 The Pentagon's top military officer in the region says skill and restraint on the part of American aviators are often the only insurance against a dangerous, or even fatal accident during the close intercepts.
"Time after time, that is exactly what has prevented a disaster in the East and South China Seas," says Admiral John Aquilino, commander of US Indo-Pacific Command (INDOPACOM).
The four-star admiral, who flew the Boeing F/A-18E/F Super Hornet and Grumman F-14 Tomcat, invoked the so-called "Hainan Island incident" of 2001, in which a Chinese Shenyang J-8II fighter collided with a US Navy Lockheed EP-3 surveillance aircraft during a PLA intercept.
One Chinese aircraft went down during that event, with the pilot presumed dead. The damaged USN turboprop was forced to land in Chinese territory, with all 24 crew members detained by Beijing for 10 days.
"One accident is too many," Aquilino says.
The admiral notes he has submitted multiple requests to Beijing to meet with his counterparts at China's Eastern and Southern Theatre Commands, in an attempt to manage the situation.
Those inquiries have gone unanswered, according to Aquilino.
FLY CASUAL
The number of aggressive Chinese intercepts recorded since 2021 rises to nearly 300, according to the Pentagon, when including encounters involving military services of the USA's Pacific allies and partners.
One such incident occurred just days earlier on 16 October, when a Royal Canadian Air Force (RCAF) Lockheed Martin CP-140 Aurora patrol aircraft was intercepted by PLA fighters over the East China Sea near the disputed Senkaku Islands.
The flight, which Canada says was monitoring shipping traffic for violations of economic sanctions against North Korea, happened to be carrying several journalists and senior military officers.
Onboard footage recorded by the CBC during the incident shows Chinese Shenyang J-16 and a Chengdu J-10S fighters flying just a few metres off the Aurora's wingtip.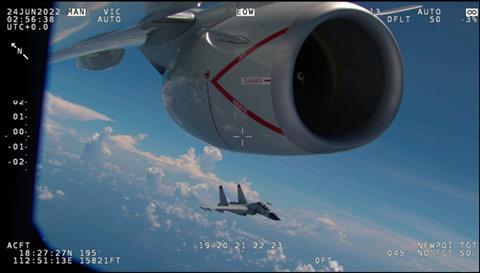 Major General Iain Huddleston, commander of 1 Canadian Air Division, was onboard during the intercept, which he described as aggressive and unprofessional.
"We're solidly in international airspace," Huddleston said to the CBC.
"There's obviously something that the Chinese felt that we were doing wrong," he added. "But it's unclear to us what that is."
The Chinese foreign ministry on 17 October blamed Canada for the incident.
"A Canadian warplane initiated a provocation by intruding the airspace of Chiwei Yu, an island affiliated to China's Diaoyu Dao," the ministry said, using the China's name for the islands.
"The Chinese military responded by taking necessary action in accordance with the law."
WAR OF WORDS
The Pentagon says the figure of 300 close intercepts represents a "sharp increase" compared to previous observation periods. In fact, Washington claims to have observed more dangerous intercepts in the past two years than during the entire preceding decade.
Ratner describes the PLA's actions as "coercive and risky behaviour" designed to "intimidate and coerce members of the international community into giving up their rights under international law".
While Ratner did not detail which specific rights Washington feels are being targeted, Beijing has a recent history of aggressive territorial expansion in the region. Since 2013, China has successfully dredged artificial islands on several disputed reefs in the South China Sea.
Those islands have since been fully militarised, according to INDOPACOM, including air bases and ground missile batteries.
China has used the presence of these facilities in the disputed Spratly Islands to assert mineral and fishing rights in a region categorised as international waters under existing international rules.
Ratner calls the rash of recent fighter intercepts in the area a "centralised and concerted campaign… to coerce a change in lawful US operational activity and that of US allies and partners".
The China-based, English-language newspaper Global Times, which often serves as a mouthpiece for communist party officials in Beijing, responded to the Pentagon's claims in an 18 October editorial.
The opinion piece, which was attributed only to the Global Times, dismissed Washington's accusations as "a new wave of hype on China's 'military threat'".
Pushing back against the Pentagon claims, the Global Times describes an atmosphere of "constant hostility toward China" by the US military.
Citing an unnamed "Chinese technology and intelligence company", the editorial claims the USA in 2022 carried out more than 600 aerial reconnaissance missions with "spy planes" over the South China Sea, with additional flights over the East China Sea and Yellow Sea.
The response from Beijing makes clear the source of the tension: the Global Times calls the areas "China's neighbourhood", in which the US has "encroached on China's national security and sovereignty".
Washington categorically rejects Beijing's assertion of sovereignty over the area, with the Pentagon saying it operates lawfully in the region, inside international airspace.
"We will continue to do so," Ratner says. "Our allies and partners welcome our military presence because it advances our shared vision for a free and open Indo-Pacific."
This a common refrain in Washington, with senior military officials repeatedly saying the USA does not seek a conflict with China. However, the Pentagon is also not shying away from the possibility.
Aquilino says he was given two missions when he assumed his post as top American officer in the strategically important region.
"Number one, to prevent conflict in the Indo-Pacific," the admiral notes. "And number two, if mission one fails, be prepared to fight and win.
"My forces are ready today," he adds.