A top US defence official says the Pentagon has not ruled out approving the transfer of Western-made fighter jets to Ukraine.
Speaking in Washington on 8 August, undersecretary of defense for policy Colin Kahl said that while "it is not inconceivable" that Western aircraft could be provided to Ukraine in future aid packages, final analysis on such a move was not yet complete.
"Our overwhelming priority right now is getting the Ukrainians things that are relevant for the current fight," Kahl says. "I think there are real questions about what would be most useful in terms of assisting the Ukrainian air force in improving its capabilities," he adds.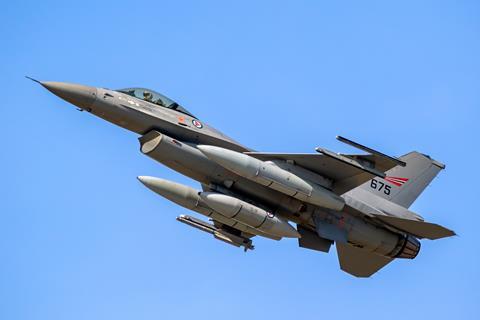 The undersecretary also says that US defence officials are consulting with their Ukrainian counterparts about what equipment and capabilities are most in need, seeming to imply that advanced jet fighters are not among them.
Ukrainian leaders, including President Volodymyr Zelensky, made forceful calls for additional fighter assets in the early weeks of their defensive war, but those were largely rebuffed by Western leaders who feared provoking additional aggression from Russia.
However, Ukraine's air force remains an active player in the six-month-old conflict, even launching unattributed helicopter strikes inside Russian territory.
Kahl notes that although the USA has not directly sent or approved the transfer of US-made fighters, Washington has sent an unspecified number of spare parts for Ukraine's Soviet-era RAC MiG-29 multi-role fighters.
"Not very much has been noticed about the sheer amounts of spare parts and other things that we've done to help them actually put more of their own MiG-29s in the air and keep those that are in the air, flying for a longer period of time," Kahl says.
He also notes that recent military assistance packages included Raytheon-made air-launched anti-radiation missiles to target Russian equipment including radars and command and control nodes.
In April, the Pentagon also facilitated the transfer of an unspecified type and number of fixed-wing combat aircraft to Ukraine from an unidentified friendly country that also operates Soviet-origin jets.
The latest US military aid package to Ukraine, announced on 8 August as the 18th such transfer of equipment, did not contain aircraft or air-launched weapons, according to a list provided by Kahl.
Recent fighting in Ukraine's east and south has prioritised long-range artillery, particularly ground-launched guided missile systems like the Lockheed High Mobility Artillery Rocket System, and air defence platforms including the National Advanced Surface-to-Air Missile System, a joint product of Raytheon and Norway's Kongsberg Defence and Aerospace.