The US Department of Defense (DoD) has temporarily suspended deliveries of the Lockheed Martin F-35 fifth-generation fighter over concerns about the origins of an onboard component.
The order to halt deliveries came from the F-35 Joint Program Office (JPO), which oversees procurement of the single-engined fighter for the US Air Force, US Navy and US Marine Corps.
It follows a revelation that a pump in the F-35's turbomachinery incorporates a magnet made from metal sourced in the People's Republic of China (PRC).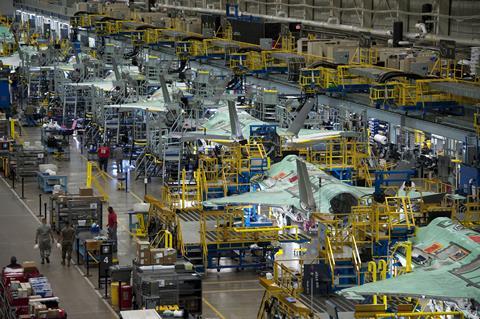 The turbomachine, according to a Lockheed explanation, is an integrated power system that combines the functions of an auxiliary power unit and air cycle machine to provide ground power for maintenance and main engine start, as well as compressed air for thermal management. A lengthy chain of subcontractors and suppliers led to raw materials mined in China making their way into that machinery.
Lockheed is the prime contractor for F-35 production, but the component with ties to China, a powerful magnet, made its way onto the jet inside the turbomachine system that is assembled by North Carolina-headquartered Honeywell.
The magnet itself is part of a lubrication pump that is produced and provided to Honeywell by an unnamed subcontractor.
A separate supplier to that unnamed company has apparently been using materials, specifically cobalt and samarium alloy, that are derived from China.
There are more than 1,700 suppliers to the F-35 programme, Lockheed says, providing some 300,000 total parts. Honeywell's website states that the company contributes over 100 unique parts to each F-35, which are incorporated into the jet's avionics, inertial navigation systems, engine fuel controls, cockpit and avionics cooling, wheels, brakes and thermal management system.
Raytheon subsidiary Pratt & Whitney (P&W) builds the F135 engine that powers the Lockheed jet. The company told FlightGlobal on 7 September that the Honeywell system in question is not part of the engine it provides to Lockheed for final assembly of each F-35.
Honeywell, meanwhile, tells FlightGlobal the company "remains committed to supplying high-quality products" and is "working closely with DoD and Lockheed Martin to ensure that we continue to achieve those commitments on products Honeywell supplies for use on the F-35".
Honeywell has stopped work with the supplier providing the alloy in question, and anticipates delivery from an alternative US source next month.
Lockheed says that a review, conducted jointly with Honeywell and the JPO, found that the magnet does not pose any flight safety issues, nor does it provide "any visibility or access to sensitive programme information".
The discovery apparently came to light in late-August, when Honeywell was informed by one of its suppliers that the subcontractor had been using Chinese-derived alloys in the production of its magnets.
A statute known as the Defense Federal Acquisition Regulation Supplement (DFARS) sets restrictions on the origins of raw materials used by US defence manufacturers. Its purpose is to prevent the producers of sensitive national security equipment from becoming dependent on overseas suppliers.
Lockheed says it is doing "everything possible" to gather facts and determine whether or not a DFARS compliance issue exists with the current magnet issue.
If there is determined to be a compliance issue, Lockheed says a national security waiver of the DFARS rules will be required to resume production. It was not immediately clear if Honeywell's switch to a new magnet supplier would resolve the issue.
The pause on new F-35 deliveries will continue for an indefinite period, Lockheed says, with airframes completed during that time being stored with the company.
Eighty-eight F-35s have already been delivered this year and Lockheed remains on schedule to deliver between 148 and 153 completed aircraft, the company says.
National security issues related to Chinese metals may become increasingly common over the coming years.
The Cobalt-Samarium alloy at the root of the saga is a metallurgical mixture commonly used in the production of permanent magnets. Samarium is a so-called rare earth element, a class of 17 minerals that are essential in the production of high-end manufactured goods, including optics and weapons used by Western militaries.
Despite their name, rare earth metals are actually quite abundant across the planet. However, their mining, and the refining capability needed to turn the raw ore into usable material, is overwhelmingly concentrated in China.
A 2014 report from the US Geological Survey (USGS) found that the PRC provided as much as 95% of the global economy's rare earth supply. China represented 80% of rare earths imports to the USA in 2019, the USGS said at the time.
Washington DC has moved to increase domestic production of the minerals in recent years, with government grants going to fund new mining efforts.
The Pentagon in 2020 announced it would provide funding for rare earth refinery projects to two private companies: MP Materials, which operates in California and Texas; and Lynas Corp in Australia.
However, those efforts will take years to bear fruit and will still leave the PRC as the dominant supplier in the market for rare earth metals.
Analysts and China-watchers in the West have warned that leaves the US-led bloc vulnerable to the Chinese Communist Party (CCP), which could institute export restrictions.
A 2021 report from the Global Times, a nationalist Chinese publication with close ties to the ruling CCP, noted that while rare earth exports to the USA are "not being restricted", reviews of such an option "have been done and measures could be taken against foreign companies that hurt China's interests".