The Pentagon is rolling out a new maintenance partnership with South American operators of US-built aircraft.
Called Theatre Maintenance Partnership Initiative (TMPI), the effort was announced on 16 October by US Southern Command, which oversees Pentagon operations in South America, Central America and the Caribbean.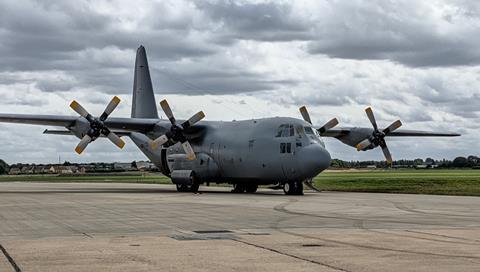 Through the effort the US military aims to help South American militaries better maintain equipment acquired from the USA. "We are looking to provide a spectrum of support and engagement for our partners and allies," says US Marine Corps logistician Lieutenant Colonel Gabriel Christianson.
While Southern Command works with partner militaries to improve the skills and practices of aircraft mechanics, the TMPI programme will go beyond ground-level maintenance.
The Pentagon plans to organise an international logistics training course targeted at senior leaders and civil officials from host countries, with topics covering lifecycle management, operational planning and NATO standard practices.
"This is more than just simple maintenance training on end items," Christianson says.
According to the Pentagon, the TMPI concept was created after several of the USA's South American partners expressed concern about their ability to operate US-origin equipment. Washington's top officer in the region, US Army General Laura Richardson, who heads Southern Command, notes the countries collectively operate more than 50 Lockheed Martin C-130 Hercules transports.
Cirium data show that at least 10 countries in Latin America operate C-130s, including Brazil, Chile, Argentina, Mexico and Colombia. Richardson says not all are maintained to similar standards, creating operational challenges. She cites the 2021 earthquake in Haiti as an example.
"There [were] some countries that wanted to participate in that recovery effort but couldn't get there," Richardson notes. "They were ready to go, and they couldn't get there."
The Pentagon says the TMPI programme will ensure aircraft throughout the region are ready to fly and capable of meeting modern standards for interoperability among partner nations. In practice, the programme could help ensure any member nation can assist with airlift missions.
Richardson says the TMPI programme will extend all the way to depot-level repair and overhaul. The maintenance partnership will apply to foreign military sales customers and recipients of equipment donated through the excess defence articles programme.
Logistics training will be available in multiple languages, the Pentagon adds.
The programme will have operations at nine educational centres in the region, each teaching varying skills. A site near Bogota, Colombia, for example, will teach aviation and electronics maintenance, while Jamaica's Caribbean Military Academy will host education covering maintenance of aircraft, ground support equipment and naval vessels.