Textron subsidiary Pipistrel is joining other electric aircraft manufacturers in the US Air Force (USAF) Agility Prime initiative, which aims to explore potential military applications for battery-powered aviation.
Slovenia-based Pipistrel on 25 October said the USAF will lease two of the company's Velis Electro model fixed-wing aircraft "to explore operational and training uses" for the type, under Agility Prime.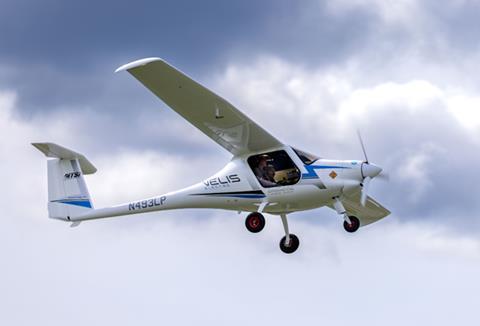 "The Velis Electro is a cost-effective and sustainable option for flight training," says Pipistrel president Gabriel Massey. "With its mature electric engine design, developed in-house at Pipistrel, the Velis Electro leads the industry in carrying out more sustainable pilot training and other missions."
Notably, Pipistrel's participation in Agility Prime differs from other manufacturers, who are focused on vertical take-off and landing aircraft. The USAF describes the effort as a "vertical lift programme" partnering with commercial manufacturers to "field a new class of air mobility systems".
Developers of electric vertical take-off and landing (eVTOL) aircraft, including Beta Technologies, Archer Aviation and Joby Aviation, are all participating in the USAF initiative.
The Velis Electro was the first aircraft in the world to receive full type certification for an all-electric aircraft. Civil regulators at the European Union Aviation Safety Agency certificated the two-seat trainer in 2020.
Burlington, Vermont-based Beta has received military airworthiness certification for its all-electric Alia design and is currently delivering the conventional take-off version of that type to the USAF under Agility Prime.