Poland has ordered two Saab 340 airborne early warning (AEW) turboprops, adding to the country's boom in military aircraft procurement.
Swedish airframer Saab on 25 July said it would deliver the two 340s by 2025 in a deal worth SKr600 million ($57.8 million).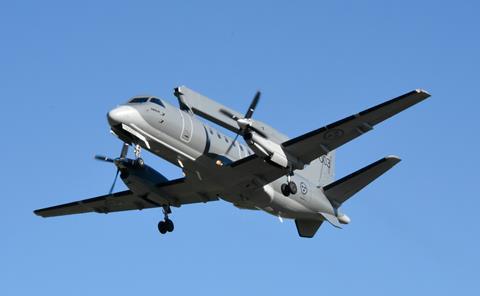 "Saab has had a strong relationship with the Polish Ministry of National Defence for many years," says Carl-Johan Bergholm, head of Saab's surveillance business area. "We are proud to further strengthen Poland's armed forces with our airborne early warning and network-based solutions."
The latest order from Warsaw continues a recent trend of substantial investment in the Polish military, with particular focus on increasing air combat capability.
Defence aerospace manufacturer Lockheed Martin in April began work on the first of 32 F-35A fifth-generation fighters on order by Warsaw. Poland is also in the process of acquiring 48 Korea Aerospace Industries FA-50 light fighters – the first of which rolled off the production line in June.
Additionally, the Polish government plans to buy nearly 100 Boeing AH-64 Apache attack helicopters – with deliveries expected in 2026 or 2027 – and more than 50 Leonardo military helicopters, including 22 AW101s and 32 AW149 medium-lift types.
Polish manufacturer PZL Mielec – a Sikorsky subsidiary – says the government in Warsaw has also requested information regarding potential production of an armed version of the S-70i – the international-customer variant of Sikorsky's venerable UH-60 Black Hawk. PZL Mielec produces the S-70i in Poland.
The recent 340 purchase agreement with Saab could support the operation of those diverse combat aircraft.
The 340 AEW provides a "detailed situational picture that can be used for military and civilian tasks, including air surveillance and rescue operations", Saab says.
The Swedish manufacturer says nine countries operate the Erieye radar that powers the 340 AEW platform, which Saab describes as "one of the most widely used airborne surveillance systems in the world".