Wing Commander Marija Jovanovich has had a career of high adventure in the Royal Australian Air Force (RAAF), but contends that while careers in aviation are definitely possible for women, they are not always clearly accessible.
Jovanovich's career in the RAAF kicked off as a pilot on the Lockheed Martin AP-3C Orion maritime patrol aircraft (MPA) from 2007 to 2011. Subsequently, she became a test pilot after completing one year of training at the US Air Force Test Pilot School at Edwards AFB in California.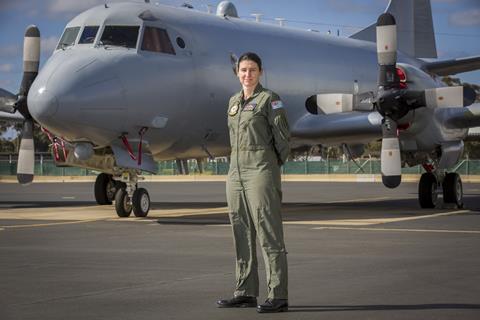 She has flown over 30 types of aircraft, including the Boeing F-15D and E, and F/A-18F Super Hornet. Perhaps the most exotic model she has flown is the Lockheed F-16 VISTA, or 'Variable Stability In-flight Simulator Test Aircraft.'
"When I flew the VISTA I realised that when I jump into any airplane, you make an unwritten contract… where you tell the airplane that you're going to do your best to keep it inside its flight envelope and not damage it. And the airplane says to you that every time you put an input in, it's going to react more or less the same as it did the last time you put in that input."
On the VISTA jet, however, this contract did not hold, because the backseater can make adjustments that radically change the aircraft's handling. She notes that the VISTA can even be set to mimic long-retired types, such as the USAF's Century Series of fighters from the 1950s and 1960s.
Jovanovich is hard pressed to state her favourite aircraft type, but confesses a very strong attachment to the AP-3C. She is in the process of requalifying for the type, as she is set to take command of 10 Sqn, which operates a pair of AP-3C(EW) electronic warfare aircraft – the Boeing P-8A Poseidon has replaced the RAAF's MPA-roled AP-3Cs.
Jovanovich did not have a particular passion for aviation as a young child. Her parents are not pilots, but surgeons.
"As a kid I was a bit of a nerd, and I use that word affectionately," she says. "I had a real love for both science and adventure. I wanted something that would satisfy both of those drives. When I was in my mid-teens, aviation started to crystallise as something that would satisfy both."
The RAAF lists several roles that women can perform, and actively encourages them to apply as fast jet pilots
Fast jet and fixed-wing pilots

Air battle management, airborne electronics, air mobility, maritime patrol and response, and weapons systems officers

Air traffic controllers

Officer cadet trainees.

Airborne electronic analysts

Crew attendants

Loadmasters
A life changing event occurred at the age of 17, when Jovanovich attended the Walsh Memorial Scout Flying School, in Matamata, New Zealand. She recalls a Cessna 152 flight from a grass airstrip.
"The first time I jumped into one of those aircraft and got airborne, I knew that was what I wanted to do. Some people think they want to fly for a living and they jump into a small airplane and take off and realise 'Nope, this is definitely not [for me].' I had the opposite experience."
From then on her focus was joining the RAAF as a pilot. One suggestion Jovanovich offers for young people interested in aviation is to get airborne in a small aircraft.
Jovanovich says that her experience with the RAAF has been overwhelmingly positive. She adds that the service has done everything possible to get more women involved both as aircrew and in technical roles, but that it is hard to move the needle. She points out that the RAAF had its first two female pilots in 1988, but that 18 years later when she graduated flight school in 2006, she was only its 13th.
"To me, that's a clear indication that while it was possible for women to do the job, for one reason or another it was not accessible."
One challenge she observes is that a large part of the public is simply not aware that there are female pilots in the RAAF – this despite campaigns to raise awareness. The service even has a section on its website dedicated to female pilots. But as of February 2019, just 38 (5%) of its 752 pilots were women.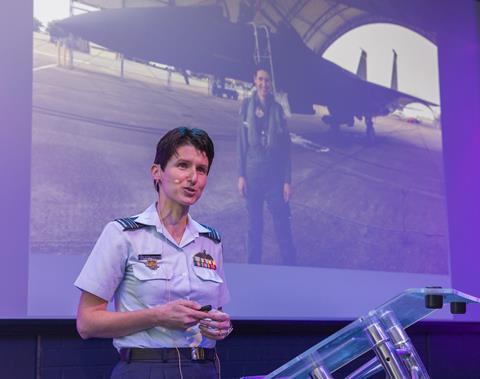 Jovanovich believes the challenge goes well beyond the air force, to society at large. In certain situations, young women could even be discouraged from attempting to start a career in a field that is perceived to be the domain of men.
"Generally as a society we still have quite entrenched gender roles when it comes to employment," she says. "When I talk to high school students, they already have a very good idea of what they can and can't do. When I talk to primary school students, they already have a pretty strong idea of what male and female jobs are."
Jovanovich adds that another big misconception about becoming a pilot is that it requires advanced abilities in physics and mathematics. She is eminently qualified to comment about this misperception, because she studied mathematics and physics at university.
"You need to be able to do some of it, but you're taught the bits you need to do. Being awesome at math and science is not a requirement… and it should absolutely not be a barrier for getting involved in the field."
She adds, however, that knowledge of physics is very useful for test pilots.
"If your passion is aviation, follow it, even if that means going against the people who are telling you that you shouldn't do it," she says. "And this particularly applies to young women, because they are more likely to be the ones that get told that this isn't for you, you can't do this, and you shouldn't do this. My advice would be to back yourself and give it a go anyway."

Greg Waldron is the Asia Managing Editor of FlightGlobal, responsible for the team's airline, aerospace, and defence coverage across the region. He has worked at the company since 2009. In the airline space, Waldron has conducted dozens of interviews with airline leaders in the Asia-Pacific. He also covers areas such as MRO and safety. On the defence beat, Waldron has written extensively about the rise of Chinese airpower, as well as broader airpower developments around the region, such as indigenous fighter programmes, and regional acquisitions of foreign equipment. In addition, Waldron writes about commercial helicopters in the region and business aviation. Waldron worked has a freelance journalist with his work appearing in several business publications.