The Pentagon has extended funding to cover additional test flights of an experimental hypersonic cruise missile developed by Raytheon.
The US military's secretive technology development arm – the Defense Advanced Research Projects Agency (DARPA) – awarded Raytheon an $81 million contract on 14 July to continue developing the Hypersonic Air-breathing Weapon Concept (HAWC).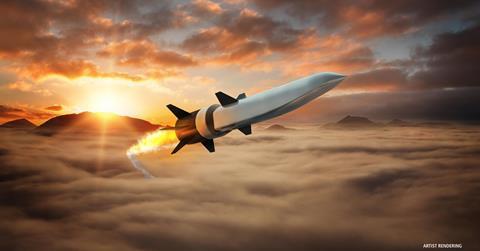 Raytheon, which recently re-branded its parent company as RTX, says the funding will be used to build and fly additional HAWC flight vehicles – which are generally defined as capable of reaching speeds of Mach 5 and faster.
"We applied learnings from each successful HAWC flight test to ensure that it is the most sophisticated system of its kind," says Colin Whelan, president of advanced technology for Raytheon. "Continuing this important programme will expand our knowledge of hypersonic flight and allow us to deliver the critical capability our war fighters need."
The next phase of the programme will focus on incorporating manufacturing improvements into the existing HAWC design, according to Raytheon, and will include additional flight tests to expand the ultra-fast vehicle's operating envelope.
The Raytheon-built HAWC vehicle has successfully completed two publicly acknowledged test flights, the most recent in July 2022. Raytheon notes the latest HAWC contract and test campaign will serve to "reduce risk" in the development of future air-breathing hypersonic systems.
The company partnered with Northrop Grumman on the HAWC programme, with Northrop providing the cruise missile's scramjet engine.
"The HAWC follow-on contract serves as an engine pathfinder programme in our new production-ready Hypersonics Capability Center in Elkton, Maryland," says Dan Olson, vice-president for weapons systems at Northrop. "Our factory of the future will seamlessly transition our validated propulsion system design into an operationally ready system to support further flight testing."
The Raytheon-Northrop team in 2022 was selected to develop another hypersonic missile platform – the Hypersonic Attack Cruise Missile (HACM). While HAWC is a technology development initiative, HACM aims to deliver operationally ready weapons to the US Air Force.
Raytheon says the two designs are "closely aligned," with technological advancements from the HAWC programme feeding into HACM.