The US military in the midst of a Pacific boom, as America's military and political leaders focus increasingly on countering a rising China in the Indo-Pacific region.
That means projecting power across thousands of miles of ocean, from existing bases and industrial centres in North America to the so-called "first island chain" – a group of far western-Pacific islands and archipelagos, including Japan, Taiwan and the Philippines, which host key military outposts. Accomplishing that feat requires new tactics, new equipment and pushing existing platforms to their limits of endurance.
Much of the USA's Pacific strategy rest on the capabilities of the US Marine Corps (USMC), which can deploy troops and fixed-wing fighter jets from US Navy (USN) amphibious-assault ships. The USMC is now reorganising its Indo-Pacific regiment to improve how it flights from small, geographically dispersed island outposts with minimal support.
That is where Regent comes in. The Rhode Island-based start-up is developing a wing-in-ground-effect craft it calls a "seaglider". Such designs fly close enough to the surface of the sea to benefit from "ground effect" – an efficiency improving phenomenon that occurs when a cushion of air forms between a craft's wings and the surface of the sea.
Regent says seagliders will be able to cruise at 156kt (290km/h) and have 156nm (290km) of range.
"Our vehicles are perfectly suited for that mission," says Billy Thalheimer, co-founder and chief executive of Regent.
Until recently, Thalheimer's company focused exclusively on the commercial market, securing provisional and firm orders (with potential value of $8 billion) for its seaglider concept from ferry operators and airlines. Civilian wing-in-ground effect craft face regulatory uncertainty, with the US Federal Aviation Administration and United States Coast Guard working to define which agency will oversee the vehicles.
"We're absolutely still going in that direction," says Thalheimer. "We're still trying to find a better way from Boston to New York, and Los Angeles to San Francisco."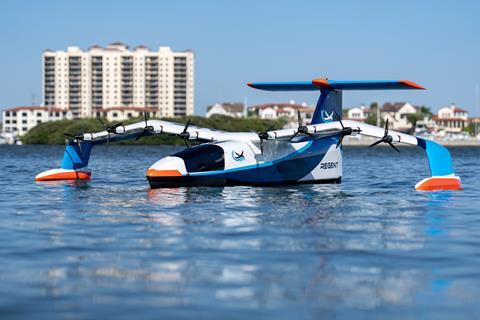 But Regent is now targeting the Pentagon, viewing the US military's Indo-Pacific focus as presenting a potential large opportunity for seaglider technology. The company recently announced a partnership with Lockheed Martin, which Thalheimer says comes with both funding and expertise in navigating the defence procurement landscape.
"It's really been a result of seeing where the national defence strategy is moving, in terms of a focus on the Pacific, on island chains, on littoral combat, on high-speed logistics and contested logistics in these littoral and archipelagic environments," Thalheimer says.
Under the current force construct, marines ashore receive logistics support from USN ships at sea, which provide everything from food and fresh water to ammunition, fuel and medical care.
That model is increasingly challenged by the proliferation of long-range precision missiles, which leave large, slow-moving surface ships vulnerable to attack. Ukraine proved the risk in April 2022, when it sunk the flagship of Russia's Black Sea fleet using a shore-based anti-ship missile.
In response, military planners in Washington and the USA's Indo-Pacific headquarters in Honolulu now assume the USN will need to keep its ships far offshore, beyond the range of hostile missiles.
The USMC already has the capability to transport personnel and cargo long distances using Sikorsky CH-53K heavy-lift helicopters, Bell Boeing V-22 Osprey tilt-rotors and amphibious landing platforms. But its aircraft are likewise vulnerable to air-defence missiles, and also limited by physical constraints, including availability of suitable landing zones and of jet fuel.
"It's a recognised capability gap by the Marine Corps" – and one Regent's seaglider can fill, Thalheimer says. "It gives you aircraft speeds, with the flexibility, runway independence and ease of loading and offloading a vessel."
He also says seagliders will be cheaper to produce and easier to operate than helicopters.
"Mariners are at the helm of it, rather than pilots flying," he says. "It's easy to buy thousands of [the craft], distribute them over the Pacific and be running very low-cost, high speed logistics platforms."
Seagliders will cost less than $1,000 hourly to operate, adds Thalheimer, who estimates CH-53Ks cost $40,000 per flight hour.
Whether the US military is convinced remains unclear.
However, the Pentagon's internal technology development agency – the Defense Advanced Research Projects Agency (DARPA) – apparently sees a role for ground-effect craft. The agency in recent months issued research and development contracts to General Atomics and Boeing's Aurora Flight Sciences to create a heavy lift seaplane known as Liberty Lifter.
DARPA wants the aircraft to be capable of operating in ground effect and of ascending and flying up to 10,000ft altitude.
Other firms are pitching competing technologies for missions similar to those targetted by Regent. Connecticut-based Kaman is offering its Kargo autonomous uncrewed aerial vehicle (UAV) to the USMC for expeditionary logistics support.
One of Regent's main selling points is payload capacity. The company says its developmental Viceroy model will be able to carry 12 passengers or 1,600kg (3,500lb) of cargo. That is far less than the 12,000kg-hauling power of CH-53Ks but surpasses the payload limits of UAVs like Kaman's Kargo.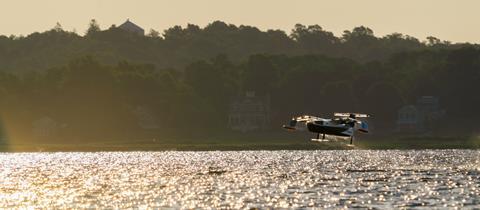 Viceroy will operate entirely on electric power, which Thalheimer describes as an advantage. While USN ships can generate electricity for charging batteries, jet fuel must be moved to front lines from distant depots.
Regent has targeted 2025 for Viceroy's service entry.
Using smaller, short-range electric vehicles such as seagliders will allow air wings "to free up vehicles that have longer ranges to do longer missions," Thalheimer argues.
The CEO, who previously worked for Aurora, thinks that capability will fit perfectly into the USMC's "hub and spoke" model of distributed logistics, particularly in what military planners refer to as contested environments.
"Our acoustic signature is very low," Thalheimer notes. "We fly always within a wingspan of the surface of the water, which means we're flying above sonar, but potentially below long-range radar."
He says Regent has a cooperative research and development agreement with US Special Operations Command – which operates a procurement system separate from that of other military services.
The command often develops specialised aircraft for its elite troops, such as the Armed Overwatch low-altitude, close-air-support turboprops.
In 2022, Regent achieved ground-effect flight with a subscale demonstrator of the Viceroy off the coast of Narragansett, Rhode Island. In that test, the prototype transitioned from floating to travelling as a hydrofoil ferry and then to flight.
Regent is also developing a second and larger concept called "Monarch" that is intended to carry 100 people and could enter service by 2028, the company told FlightGlobal in September.
Thalheimer says the next milestone for the seaglider concept will be a piloted flight of a full-scale prototype, a feat he expects the firm will complete by the end of 2024.
Additional reporting by Pilar Wolfsteller