Another F-35 debate is taking shape, this one over whether the Pentagon should improve or replace the Lockheed Martin-made fifth-generation strike fighter's power-management system.
Aerospace components producer Honeywell, which manufactures the F-35's Power and Thermal Management System (PTMS), insists the US military should upgrade the jet's cooling and electrical capacity rather than develop an entirely new system. But competitor Collins Aerospace is advocating otherwise, pushing for the US government to replace the Honeywell system with equipment made by Collins.
The dispute erupted as the Pentagon recently moved forward with plans to upgrade the F-35's Pratt & Whitney (P&W) F135 engine, an effort partly intended to ensure the jet's powerplant can produce enough electricity to support increasingly power-hungry electronics. The Pentagon has said the F-35's PTMS must also be improved.
"Our estimate is that its about $3 billion" to replace Honeywell's PTMS with a system made by another provider, says Matt Milas, president of defence and space for Honeywell Aerospace.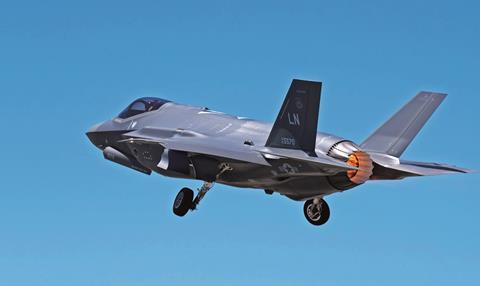 He calls that figure a "conservative estimate" that includes the cost of retrofitting the global F-35 fleet and of replacing spare parts globally. The estimate does not, however, account for "the risk of anything that happens in installing… developing and fielding a completely new PTMS-type of system".
"It's not just a cooling system… it connects to the environmental, the life support, all the avionics, all the systems that are drawing power," he adds. "It is very impactful if you start swapping that out. You don't know what other risks you're introducing by putting in something completely new and unproven."
The public relations salvo comes two months after Collins revealed it is testing its Enhanced Power and Cooling System (EPACS) as a potential replacement for Honeywell's PTMS.
Speaking at the Paris air show in June, Collins executives said initial laboratory testing showed that its EPACS could provide more than twice as much power and cooling capability.
"This development can really carry improvements for the F-35," said Henry Brooks, Collins' president of power and controls, at the event in Le Bourget. "That is expected to support the cooling needs for the remainder of the F-35 life cycle," he added.
Rather than a new system, Honeywell would instead like to see the Pentagon opt for improvements to the existing power and cooling hardware – arguing such an option will be cheaper, faster and pose less design risk.
Collins' sister company P&W spent more than one year making a similar argument for how best to improve the fighter's propulsion system. Both Collins and P&W are subsidiaries of the defence conglomerate RTX, formerly known as Raytheon Technologies.
While the engine and PTMS are separate systems, they need improvements for the same reason.
Lockheed and the Pentagon have continually developed upgrades to the jet's initial design. The latest of these, known as Block 4, will deliver substantial improvements to weapons capacity, data processing speeds and sensor capabilities.

All of those improvements, combined with those already made to currently flying jets, have increased demand for onboard cooling and electrical power beyond the F-35's original design specifications.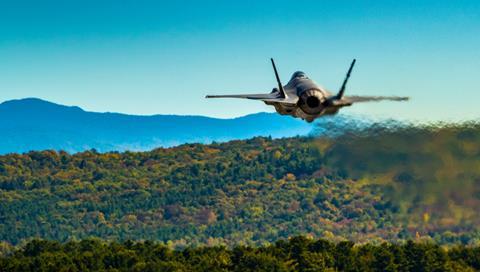 The Pentagon and Lockheed have known about the issue as far back as 2008, but government officials decided to proceed with the original engine and PTMS to avoid additional production delays.
The US Department of Defense recently opted for an engine core upgrade to the existing F135 engine to alleviate the problem, with P&W receiving an initial contract in July to begin the programme.
However, auditors with the independent Government Accountability Office said in June that while an F135 upgrade will cover the power and cooling shortfall projected for Block 4, improvements to the current PTMS will be needed for any future F-35 upgrades. The Pentagon has not made public precise power and cooling requirements for Block 4 – and any changes beyond that remain theoretical.
Milas says Honeywell is already working with Lockheed to squeeze extra cooling capacity out of the existing PTMS. Under a direct contract with the F-35 manufacturer, Honeywell is also undertaking research efforts that aim to generate an additional 10-17kW of power.
"We do have a lot of ideas on things that we can do… just enhancing the system that we already have," Milas says.
But he also notes that Honeywell, P&W and Lockheed do not hold contracts under which they can all work together to address the cooling issue.
Milas is therefore urging the Pentagon to take the lead in solving the problem by bringing the stakeholders together.