Romania is to modernise its 10 remaining IAR-99 Standard trainers, having invited the jets' original manufacturer Avioane Craiova to perform the upgrade work.
Under the procurement, the Craiova-based manufacturer must now submit a suitable offer to the defence ministry in order for the contract to proceed.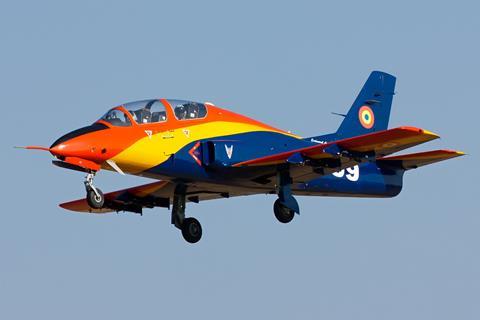 No details of the modernisation programme have been released by the Romanian defence ministry, but it says the effort to raise the aircraft to the SM standard is to enable "advanced pilot training", bridging to the Lockheed Martin F-16 fighters operated by its air force.
In addition, SM-level aircraft will be able to conduct close-air support missions and to interdict low-speed aerial targets, says the defence ministry.
Bucharest hopes the contract, worth a reported $100 million, will be signed within a month, enabling the work to take place over the 2020-2024 period.
Powered by a single Rolls-Royce Viper engine – licence-built by local firm Turbomecanica – the IAR-99 first flew in 1985. Cirium fleets data shows the Romanian air force as operating 10 Standard aircraft, all built in the late 1980s, plus 11 C-variant examples, dating from a previous upgrade of the design in the late 1990s which also included new-build jets.