An important Russian air base on the Black Sea coast has been struck by several explosions of an unknown origin.
Numerous videos surfaced on social media on 9 August showing multiple detonations at the Saki air base in Novofedorivka, Crimea. The explosions were shown from multiple vantage points, including apartment buildings and the peninsula's famous beaches, which were crowded with Russian tourists.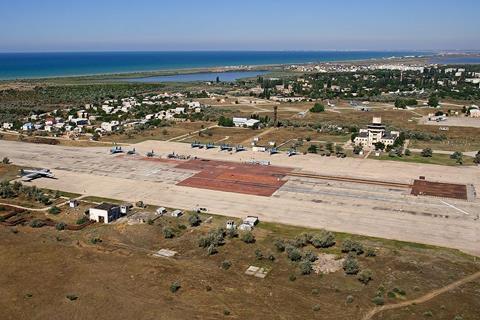 Flames and large columns of black smoke rose several storeys into the air, in stark contrast to the sunny blue sky and nearby beachgoers.
The air base and Crimea as a whole were controlled by Ukraine until 2014, when Russian forces invaded and annexed the territory. Ukraine still maintains that Crimea is Kyiv's sovereign territory, but has made no military moves to retake it.
Saki is currently home to Russian naval aviation assets, including Sukhoi Su-30 multirole fighters and Su-25 ground-attack jets. The base was used as a staging point for Russian forces advancing from the south and to provide air support for troops fighting in the eastern part of Ukraine.
The cause of the 9 August explosions at Saki was not immediately clear. The Russian defence ministry was quick to claim that an accidental detonation of munitions being stored at the facility is to blame.
The Kremlin denied that any aviation equipment or assets had been damaged.
Ukrainian officials in Kyiv offered no counter-explanation, but speculation was rampant on social media that some sort of long-range strike by Ukraine's forces was the cause.
On Saki Airbase in #Crimea. The first two explosions happen in the middle of drifting smoke from a clearly already established fire. Looks black like fuel. No missiles visible in any footage. Later a third explosion exactly the same size, colour and propagation rate occurs.
(1/4) pic.twitter.com/jUdckCredB

— Justin Bronk (@Justin_Br0nk) August 9, 2022
No footage showing incoming missiles or aircraft has yet emerged. Moscow has previously made bellicose threats about the retaliation that will ensue following any Ukrainian strike on Crimea, including attacks on "decision-making centres" in Kyiv.
Justin Bronk, a researcher of airpower and military technology at the UK think tank Royal United Services Institute says on Twitter that a likely explanation is a limited strike by local saboteurs using some type of unmanned air vehicle (UAV).
"My best guess is that Ukrainian forces hit the base with a fairly small loitering munition or improvised UAV," Bronk says via tweet.
Loitering munitions are small drones akin to aerial booby traps that can be operated manually or triggered autonomously by the presence of a target. The USA and UK have provided several types of such weapons, also known as kamikaze drones, to Ukraine, including the Aevex Aerospace Ghost Phoenix and AeroVironment Switchblade.
Bronk adds that the with at least three separate detonations and a fire observed, the strike likely impacted either a parked aircraft of fuel lorry. He also notes that the Russian air force is known to stage makeshift ammunition dumps near combat aircraft, loaded with weapons and fuel.
"My working theory is that Ukrainian loitering munitions or saboteurs caused an initial fuel fire that engulfed either piles of bombs or armed aircraft," he speculates via Twitter.
A similar-style strike on 1 August was also recorded at Russia's Black Sea Fleet headquarters at the Sevastpol naval base in Crimea. Moscow blamed Ukrainian forces for that attack, which authorities in Kyiv and Odessa denied.
Ukraine has made successful use of larger UAV platforms like the Baykar TB-2 Bayraktar throughout the six-month war. The medium-altitude, long-endurance Bayraktar played a decisive role in the defensive of Kyiv in the conflict's opening weeks.
A TB-2 was also reportedly used in April to distract the air defence systems of the Russian Black Sea Fleet flagship Moskva, which was then struck by two anti-ship cruise missiles. The ship later sank.
In both the sinking of the Moskva and the recent incident at Saki, Russia's defence ministry cited accidental fires as the culprit.