Russian military aircraft breached the USA's air defence identification zones (ADIZ) off the coast of Alaska on 13 August, continuing a trend of aggressive air engagements around the world.
The joint US-Canada North American Aerospace Defense Command (NORAD) on 14 August said it detected and tracked four Russian military aircraft of an unspecified type late on 13 August and into the early hours of 14 August, local Alaska time.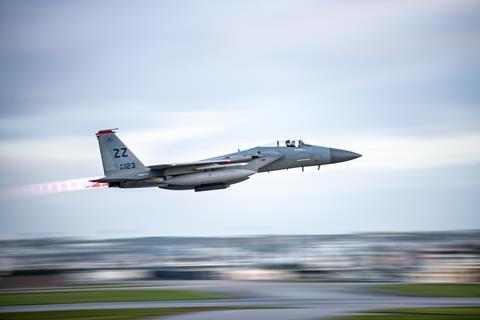 "The Russian aircraft remained in international airspace and did not enter American of Canadian airspace," NORAD says. "The Russian activity in the Alaska ADIZ occurs regularly and is not seen as a threat."
The command notes an ADIZ begins "where sovereign airspace ends". While officially international airspace, the zone requires all aircraft in the area to identify themselves "in the interest of national security", NORAD says.
Other countries employ such identification zones outside of their sovereign airspace, including major players in Europe, the Middle East, Asia and North America. The practice is not specifically governed by an international agreement.
Russia has repeatedly made close contact with US military aircraft in recent months. Crewed fighters from the Russian air force have made what Washington describes as "unsafe and unprofessional" intercepts of US Air Force unmanned aerial vehicles over Syria and the Black Sea – forcing one down.
The US deployed fifth-generation Lockheed Martin F-22 air-superiority fighters to the Middle East in response.
American officials have for several years warned of increasing activity by Russian military aircraft near Alaska.
In 2021, the senior military officer in Alaska – Lieutenant General David Krum – described the Russian presence around the USA's northernmost territory as "the highest activity we've had since the fall of the Soviet Union", while speaking at an Air Force Association event.

Ryan Finnerty is the Americas defence reporter for FlightGlobal.com and Flight International magazine, covering military aviation and the defence industry. He is a former United States Army officer and previously reported for America's National Public Radio system in New York and Hawaii covering energy, economics and military affairs.
View full Profile