Saab has begun promoting an active electronically scanned array (AESA) antenna for its PS-05/A fighter radar, offering an upgrade option for operators of its Gripen C/D, and other legacy types.
During a roughly 90min debut flight aboard a Gripen D test aircraft conducted from the Swedish company's Linkoping site on 8 April, the AESA sensor "collected data while detecting and tracking objects", Saab says.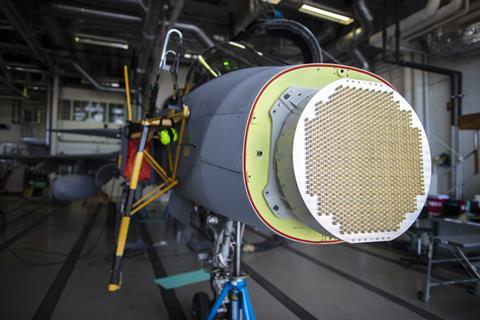 Anders Carp, head of the company's aeronautics business area, describes these as having been "targets of opportunity" such as general aviation aircraft, due to a lack of commercial airliner activity during the coronavirus crisis.
"We had a very successful first flight, both in terms of capability and stability," Carp says.
Future tests, to be conducted following data validation from the sensor's airborne debut, will be expanded to incorporate "fighter targets", he notes. In all, around 15 flights are planned over a period of three to four months.
Integration of the AESA array – which features more than 500 gallium nitride transmit/receive modules – required no alteration to the Gripen's power or cooling provision, Carp says. "We're just changing the array itself, and using exactly the same back-end as the [PS-05/A] Mk4" with some software updates, he notes.
"We have the possibility now to get the full radar range to use [MBDA's] Meteor or similar [air-to-air] missiles," Carp notes of the enhancement.
The availability of an ITAR-free AESA array offers a potential upgrade path for existing Gripen C/D operators, which in addition to the Swedish air force include the Czech Republic, Hungary, South Africa and Thailand.
As well as being a candidate for such updates, the new array will also be offered with Saab's proposed Gripen Aggressor platform, which is intended to meet growing military demand for adversary training services.
"The Gripen is a fairly small aircraft compared to many of the competitors, which makes the size of the radar suitable for many other platforms," Carp notes. This could potentially include advanced jet trainers, and even unmanned air vehicles, he suggests.
Carp points to the fighter AESA design as having drawn on Saab's experience with developing other X-band sensors, including for the Giraffe 1X short-range ground-based air-defence radar. Its underlying technology could be scaled up to approaching an "Erieye-size" sensor for airborne ground surveillance tasks, he indicates.
"If there's a customer that wants it now we're ready to start production – we're more or less ready to take orders," Carp says.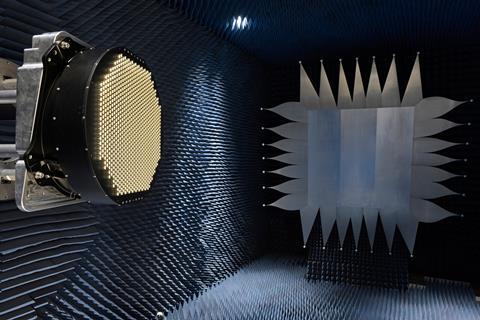 Saab has already delivered an array almost identical to the design flown in the Gripen to an undisclosed US military customer. The company last October announced its receipt of a contract to supply the system, but will not disclose the operator or platform type.
Saab's AESA product will not compete with the Leonardo Raven ES-05 array installed on the airframer's new-generation Gripen E, which is in production for Sweden and launch export buyer Brazil.