Saab has commenced assembly production for the Boeing T-7A Red Hawk advanced jet trainer.
The Swedish company says it is producing seven aft fuselage sections in Linköping, Sweden which will then undergo final assembly at Boeing's factory in St. Louis, Missouri.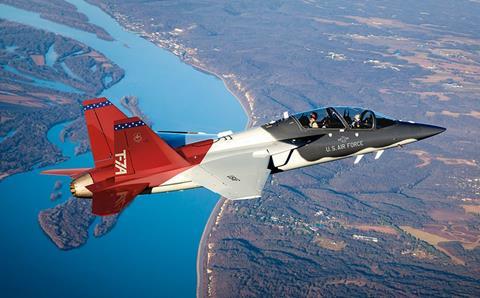 Saab's future production work will take place in West Lafayette, Indiana. Boeing, which serves as prime contractor for the T-7A, and Saab partnered on the programme.
"In little over a year since we signed the [engineering and manufacturing development] contract, we are starting production of our part of the T-7A jet," says Saab executive Jonas Hjelm.
"This achievement is possible due to the great collaboration between Saab and Boeing, and it is an honour to be part of this programme for the United States Air Force."
Boeing won a $9.2 billion contract in September 2018 to supply the USAF with 351 T-7A aircraft, 46 simulators and associated ground equipment. The service is replacing its fleet of Northrop T-38C Talons that started entering service in 1961.