The UK Royal Air Force's (RAF's) second of an eventual nine Boeing P-8A Poseidon MRA1 maritime patrol aircraft arrived at Kinloss in Scotland on 13 March.
Newly arrived ZP802 followed the service's lead example of the 737NG-derived type, which has been in the UK since 4 February to support training activities. The pair will remain at Kinloss until the Poseidon force is relocated to its permanent home at nearby RAF Lossiemouth later this year, following the completion of infrastructure work at the site.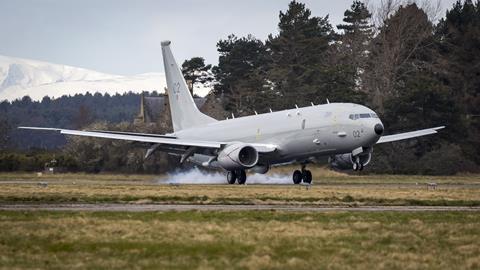 In its recently published Defence Equipment Plan report for 2019, the UK Ministry of Defence said the P-8A fleet remains on track to achieve an in-service target of April 2020. The last of the aircraft is scheduled to be delivered by November 2021.
The MoD says the procurement should cost £2.2 billion ($2.67 billion); almost £200 million lower than expected at the time of project approval.
"Poseidon has a total of nine key user requirements, which are all on track to be met," the equipment report states.
Once operational, the Poseidon fleet will provide a dedicated anti-submarine and anti-surface warfare capability which has lapsed since the 2010 retirement of the RAF's last British Aerospace Nimrod MR2s. The type will be armed with Mk 54 lightweight torpedoes and Boeing AGM-84 Harpoon anti-ship missiles.