More Lockheed Martin F-35s are ready to fly in Japan.
The US Marine Corps (USMC) says its second squadron of the fifth-generation stealth fighters based in Iwakuni, Japan is now at full operational capability (FOC). The USMC flies the short take-off and vertical landing (STOVL) "B" variant of the F-35 from the Japanese base.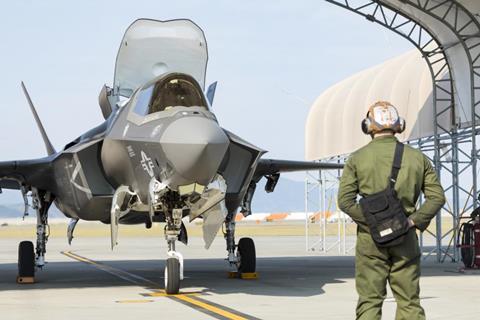 "The FOC milestone is the culmination of well over two years of planning and execution, all while being forward deployed and in the face of a global pandemic. In my 20-plus years of service, I have never seen a unit come together in a way that our marines and sailors have while overcoming many challenges," says Lieutenant Colonel Michael Wyrsch, commanding officer of Marine Fighter Attack Squadron 242 (VMFA-242).
Wyrsch's aviators and support crew join sister squadron VMFA-121, which is also permanently stationed in Iwakuni. Combined, the two units operate 32 F-35 jets.
The USMC is currently replacing its fleet of Boeing F/A-18 Hornet fighters, McDonnell Douglas AV-8B Harrier II jump jets and Northrop Grumman EA-6B Prowler electronic warfare aircraft with F-35B and C variants.
The F-35C is designed to operate from the US Navy's fleet of aircraft carriers.
The Iwakuni air base on Japan's main island of Honshu was the site of the first forward-based American F-35s, which began arriving in 2017. The installation is now the only location in the Indo-Pacific region to host two permanently based F-35B squadrons, according to the USMC.
The milestone marks the continued integration of defence strategy between the USA and Japan, particularly when it comes to the F-35. In 2021, a USMC pilot with VFMA-242 landed an F-35B aboard the Japanese light aircraft carrier Izumo. It was the first time since the Second World War anyone had landed a fixed-wing aircraft aboard a Japanese carrier.
The Government of Japan also plans to purchase as many as 105 F-35s for its own forces. Sales of 63 conventional take-off and landing F-35A variants and 42 of the STOVL variant are in the works.
Japan's Air Self-Defense Force also said on 14 May it will develop its own next-generation fighter, the F-3, which will be a collaboration between Tokyo-based Mitsubishi Heavy Industries and the UK's BAE Systems.
It is unclear how that decision will affect the planned F-35 purchases.