Defence contractor Sierra Nevada will design mission systems for a high-speed vertical take-off and landing (HSVTOL) aircraft concept being developed by Bell.
The US helicopter manufacturer, a subsidiary of Textron, revealed its HSVTOL concept in 2021, saying the aircraft will have the range and speed of a jet fighter and the ability to hover like a helicopter.
On 19 September, Bell said Nevada-based Sierra Nevada will "support the design and development of mission systems for HSVTOL variants".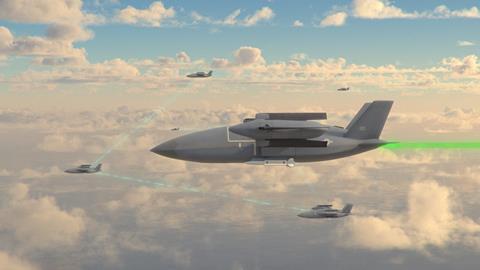 The companies disclose no other details about the programme, and Bell has not revealed a development timeline.
"We've made significant progress in Bell's HSVTOL technology development in 2022," says Bell vice-president of innovation Jason Hulst. He adds that the company will disclose more details "in the coming year".
Bell has said its HSVTOL will be able to cruise at 400kt (741km/h).
Images released by Bell appear to show an aircraft with foldable wing-mounted props and – similar to traditional fighters – a propulsion system integrated into the aircraft's fuselage. Seemingly, the props would be used during hover, and they would fold as the main propulsion system powers the aircraft in forward flight.
FlightGlobal previously reported that the US Air Force Research Laboratory contracted Bell to study a concept similar to HSVTOL.