Spirt AeroSystems, the Wichita-headquartered manufacturer of fuselages, wing sections and other aircraft components, says it is steadily progressing toward its goal of expanding revenue from defence programmes.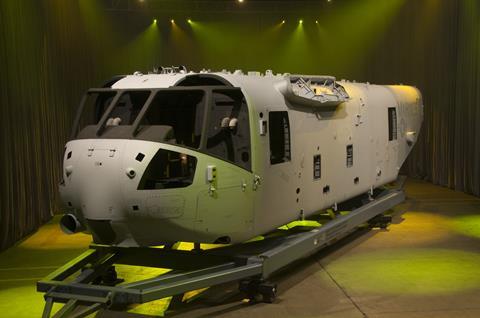 Mark Miklos, senior vice-president of defence at Spirit, says the company expects 15% of its 2023 revenue to come from production of military equipment.
"Our pipeline is really becoming very well established," Miklos says in an interview ahead of the 2023 Paris air show.
The 15% figure represents substantial growth of Spirit's military business. As recently as 2020, the company derived more than 90% of its revenue from supplying commercial airframe components, according to Miklos.
Spirit has set a goal, by the end of this decade, for 40% of its revenue to come from defence sales, with another 40% coming from commercial aviation sales and 20% from aftermarket products and services. An internal realignment announed in 2021 aimed to enable that transformation.

Spirit now supplies parts for some of the highest-profile military aircraft in development or production, including Northrop Grumman's B-21 stealth bomber, Sikorsky's CH-53K heavy-lift helicopter and Boeing KC-46's aerial tanker. Spirit was also named a supplier for Bell's V-280 tiltrotor, which the US Army selected to be its next-generation troop-carrying assault aircraft.
Miklos says his company's involvement in Bell's V-280 programme is indicative of how Spirit has achieved such rapid growth in its defence business. The company has adopted a design-build approach to military manufacturing, working with prime contractors to engineer Spirit's portion of aircraft.
"We believe our capabilities enable speed – to be able to scale next-generation programmes for our customers quicker than they would be able to do alone," Miklos says.
He notes Spirit designed and assembled the all-composite fuselage for the V-280 in under 22 months.
To achieve such speed, Miklos says Spirit engineers are heavily involved with design work undertaken by its customers.
"We need to be a part of the development at an early stage," he notes. "That allows us to design for manufacturability as early in the development as possible."
Spirit has long been a prime supplier of major components found on commercial passenger aircraft. It produces wing elements for Airbus A320s, A350s and previously A380s, and manufactures fuselage sections for numerous Boeing jets, including 767s, 777s and 787s.
But the 737 programme has long been most important to Spirit. The company makes 737 fuselages – work that accounted for about half Spirit's revenue prior to the 737 Max's 2019 grounding. That share fell to 19% in 2021, prompting Spirit to realign its business that same year in a bid aimed at helping it expand into new markets, including defence.