Aerostructures manufacturer Spirit AeroSystems is partnering with a US government-funded laboratory to develop advanced materials capable of withstanding hypersonic flight.
Spirit on 8 August said its partnership with the USA's Oak Ridge National Laboratory (ORNL) will focus on "scalable, efficient manufacturing of advanced material solutions" for military, commercial and space applications.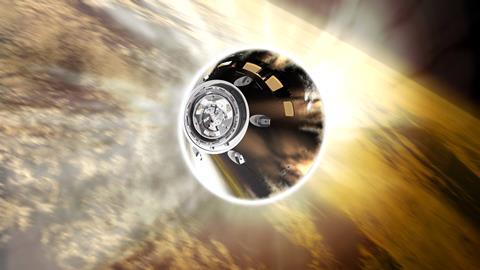 "Research teams will study various processing techniques for materials that can withstand extreme heat and harsh environments, including the scaling up of a thermal protection system for aerospace platforms," Spirit says.
Hypersonic flight, which is generally considered to be speeds of Mach 5 and above, poses numerous engineering challenges – particularly the build-up of excess heat.
The temperature of air passing over an aircraft travelling at M5 has been measured as high as 1,926°C (3,500°F), according to Charles Smith, a fluid mechanics researcher at Lehigh University and author of the 2023 textbook Introduction to Graduate Fluid Mechanics.
According to NASA, for a vehicle travelling at hypersonic speeds, "the temperature of the flow around the aircraft is so great that… at higher hypersonic speeds, the [gas] molecules break apart producing an electrically charged plasma around the aircraft".
Designing aerostructures capable of both dissipating and withstanding extreme heat is critical to the advancement of hypersonic flight. Part of the Spirt-ORNL partnership will involve the certification of both carbon and ceramic composite heat-resistant materials, as well as additively manufactured alloys.
Spirit has been seeking to diversify its business away from supplying commercial airframes, which represented more than 90% of company revenues as recently as 2020.
Production of Boeing 737 fuselages accounted for about half Spirit's revenue prior to the 737 Max's 2019 grounding. That share fell to 19% in 2021, prompting Spirit to realign its business that same year in a bid aimed at helping it expand into new markets, including defence, space flight and hypersonics.
The company has made significant advances into the defence market, with military contracts expected to make up 15% of total revenue by the end of 2023, according to Mark Miklos, senior vice-president of defence at Spirit.
"Our pipeline is really becoming very well established," Miklos told FlightGlobal in a June interview.
In 2020, Spirit acquired Biddeford, Maine-based FMI – a technology company specialising in defence-focused high-temperature materials and composites, including for use on hypersonic missiles.
In 2021, FMI was awarded a NASA contract to develop thermal protection systems for three space vehicles: the Mars Sample Return (MSR) lander that will gather geologic samples from the red planet; the MSR Earth Entry Vehicle that will return those samples to Earth; and the Dragonfly vehicle that aims to land a "robotic rotorcraft" on the surface of Titan – Saturn's largest moon.
ORNL is one of the 17 national laboratories funded by the US Department of Energy. It is considered the USA's largest advanced manufacturing research facility.