The US Air Force Research Laboratory (AFRL) will fund a second example of a reusable hypersonic flight vehicle built by American start-up Stratolaunch.
Mojave, California-based Stratolaunch said on 12 October it has won a contract from the AFRL to support the flight of a second reusable TalonA hypersonic test platform – designated TA-3.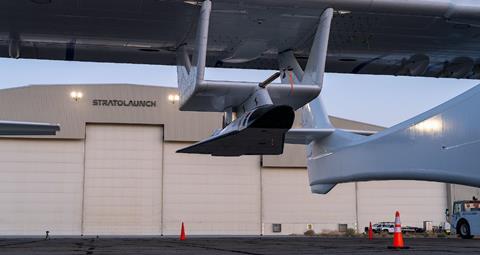 "We're pleased AFRL chose to support the flight of TA-3 and continues to see value in our approach to low cost, high-cadence flight test," says Zachary Krevor, chief executive of Stratolaunch.
The value of the contract was not disclosed.
That award follows a similar AFRL contract in November 2022 to help fund the first flight of an expendable TalonA type, which carried the designation TA-1.
Stratolaunch hopes to complete the hypersonic TA-1 flight before the end of 2023. Hypersonic is generally defined as speeds at or above Mach 5.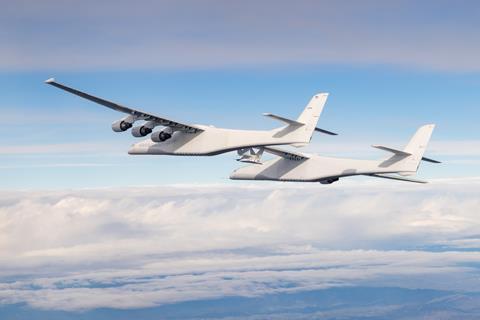 Two follow-on TalonAs, which are designed to be fully reusable, were designated TA-2 and TA-3 by Stratolaunch.
The company's goal with TalonA is not to produce an end-user aircraft for military or civil hypersonic flight. Rather, Stratolaunch aims to provide a reusable flight test platform that will reduce both the cost and time associated with hypersonic development.
"Stratolaunch's repeatable approach enables rapid, iterative testing – increasing the pace of access to the hypersonic environment, while reducing development cost, schedule and risk," the company says.
TalonA will have the ability to fly a variety of hypersonic flight profiles, according to Stratolaunch, while carrying customised payload experiments on board.
Making use of a separate, "captive carry" over-wing aircraft known as Roc, TalonA vehicles will be carried aloft for an air drop manoeuvre, before accelerating into rocket-powered hypersonic flight.
With a 117m (385ft) wingspan, powered by six engines originally developed for the Boeing 747 commercial airframe, Stratolaunch calls Roc the "world's largest operating aircraft".
The company says Roc boasts a capacity of 226,800kg (500,000lb). The TalonA is carried below the wing and in between the twin fuselages.
It earlier had conducted captive carry test flights with a TalonA testbed, designated TA-0, including a successful separation drop test.
See video of hot fire testing of the Usra Major Hadley rocket engine that powers the TalonA: