The government of Switzerland has signed a contract formalising its planned acquisition of 36 Lockheed Martin F-35As, a move following the country's 2021 decision to acquire the US-made fifth-generation fighter.
The deal is worth Swfr6.0 billion ($6.2 billion) and calls for Lockheed to deliver the jets between 2027 and 2030, the company said on 19 September.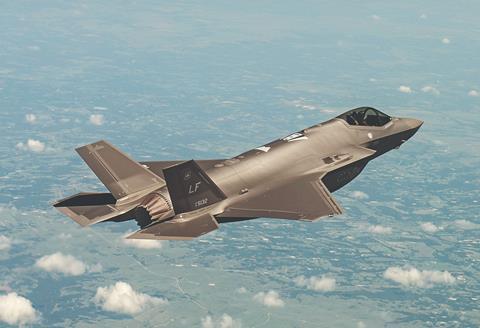 Switzerland confirms the order, saying its armament director Martin Sonderegger and F-35A programme manager Darko Savic signed a "procurement contract" in Bern.
"With this, the procurement of 36 F-35A is contractually agreed," says Switzerland. "The prices and contractual conditions are defined bindingly in this contract and are also enforced by means of strict supervision.
"The US authorities have already signed the procurement contract," Switzerland adds.
The country will acquire the fighters via the US government's Foreign Military Sales process, which the US Defence Security Cooperation Agency (DSCA) oversees.
The DSCA in 2020 approved the sale of F-35s to Switzerland.
The agreement includes "mission-specific equipment, weapons and ammunition, a logistics package, mission-planning systems, training systems and initial training", Switzerland adds.
"Switzerland will benefit from Lockheed Martin's dedication to autonomy and sovereignty in integrating indigenous solutions," the US manufacturer says. "We look forward to growing the partnership with the Swiss air force and industry to deliver and sustain the aircraft for decades."
Switzerland in 2021 selected the F-35A as its next fighter in a move that dealt a blow to the European defence industry. The country chose Lockheed's jet over competing offers from Dassault for its Rafale and from Eurofighter for its Typhoon.
At the time, Switzerland said purchasing either of those European-made types would cost Swfr2 billion more than acquiring F-35As.