The Swiss government will purchase an advanced air and missile defence system from the USA.
Switzerland received Foreign Military Sales approval from the US government to acquire a ground-based Raytheon Patriot anti-aircraft and anti-missile system. The Department of Defense (DoD) announced the contract on 28 March.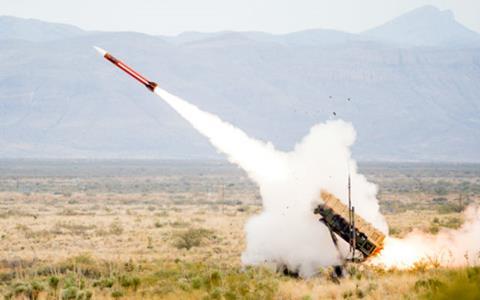 Raytheon confirms the deal on 3 April, which it says is worth $1.2 billion. The contract includes five Patriot fire units and an unspecified quantity of Guidance Enhanced Missiles – the kinetic component of the Patriot system.
"The missile is proven to defeat tactical ballistic missiles, cruise missiles and enemy aircraft," Raytheon notes.
"Patriot is the proven, reliable ground-based air defence capability for the US Army and now 17 international countries," says Tom Laliberty, president of land warfare and air defence at Raytheon.
Production and delivery of the missile-based system is expected by the end of 2032, according to the DoD.
Switzerland will be the eighth European country to operate Patriot, Raytheon says.