The US Air Force (USAF) has awarded Israel Aerospace Industries (IAI) a potentially $240 million contract to produce further replacement wing sets for its Northrop T-38C jet trainer fleet.
"Work will be performed in Lod, Israel, and is expected to be complete by January 2023," the US Department of Defense says in a 30 January notification of the indefinite delivery/indefinite quantity deal. Approved funding in fiscal year 2020 values $34.4 million, it adds.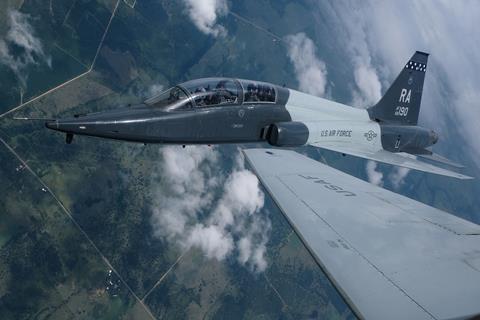 IAI notes that it secured its first such award from the USAF for the T-38 in 2011, with the replacement wings manufactured by its Lahav Aero-Structures unit.
The USAF will begin replacing its aged T-38C inventory with the Boeing/Saab T-7A Red Hawk advanced jet trainer, via a currently 351-unit acquisition worth $9.2 billion. The new type's introduction is scheduled from around 2023.
Cirium fleets data shows that the USAF has 518 T-38s in use, the oldest of which were acquired in 1960.