The US government is progressing in the process of approving the sale of 40 Lockheed Martin F-16 fighters to Turkey, a purchase Ankara requested in 2021.
An official with the US Department of State, speaking to FlightGlobal on condition of anonymity on 13 January, said the adminstration of President Joe Biden will start consulting with Congress about the sale in the coming days.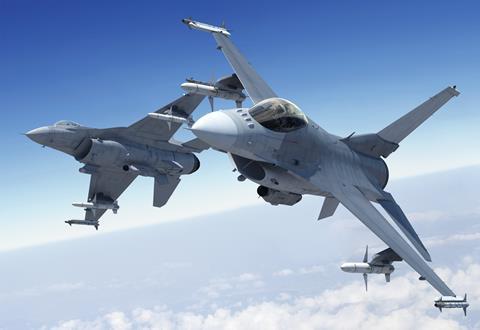 The Department of State otherwise declines to comment, saying it does not address proposed arms sales until Congress receives formal notice of such requests.
Under the USA's Foreign Military Sales (FMS) process, arms deals of this size require approval by select committees of Congress, and the Department of State.
The Wall Street Journal on 13 January, citing an unnamed government source, reported that the Biden administration had agreed to the F-16 deal, reportedly worth $20 billion and covering 40 new jets and kits to modernise 79 of Turkey's existing F-16 fighters.
Ankara operates a total fleet of 157 F-16Cs, according to Cirium data.
However, the official who spoke with FlightGlobal stresses that pending talks on Capitol Hill do not represent the legally required, official notification to Congress.
Rather, they indicate the Department of State has completed its initial review of the FMS request by Turkey and is now ready to discuss the prospective deal with members of Congress – a step known as an informal, or tiered, review.
President Biden in June expressed support for selling F-16s to Turkey, while attending a summit of NATO leaders in Spain.
"We should sell them the F-16 jets and modernise those jets as well," Biden said in Madrid.
However, Washington's assent reportedly does come without condition. The unnamed source cited by The Wall Street Journal says the F-16 sale will be dependent on Ankara's acceptance of Sweden and Finland into the NATO military alliance.
Turkey has opposed the entrance of those Nordic countries into the bloc over concern about alleged ties to Kurdish separatist groups.
There is no standard for how fast proposed arms sale move from informal talks between the Department of State and Congress to the administration's official notification of intent to sell. Progression will depend on possible concerns or objections within Congress.
Subsequently publication of an official notification by the Department of State and the Defense Security Cooperation Agency, which oversees arms transfers, would indicate that the deal has Congressional support.