New variants of the Xian Y-20 strategic transport look set to make their public debut, as the four-engined type assists relief operations related to the Coronavirus outbreak in the city of Wuhan.
In addition to the transport variant, a tanker variant and an airborne early warning (AEW) variant are planned, according to a Global Times report citing Teng Hui, who commands an air force aviation regiment and is a Y-20 pilot.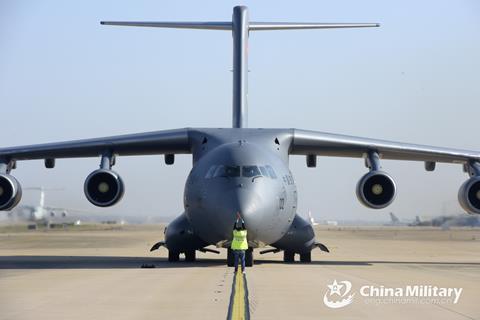 "The Y-20 cargo plane has variants like the Y-20 aerial tanker and Y-20 AEW aircraft," he says. "I believe that people will see our Y-20 aerial tanker debut on the battlefield in the not too distant future."
Global Times adds that the tanker variant will carry 90t of fuel, three times more than the smaller H-6 that China uses for tanking missions. It is likely to appear before the AEW version.
A tanker based on the Y-20 would use the hose-and-drogue refuelling method. It is understood that China is considering having a refuelling pod under each wing, with possibly a third hose deploying from the aircraft's tail.
In addition, the Global Times story states the AEW version of the Y-20 could use a conformal array instead of the traditional rotating dish. An electronic warfare variant could also be developed.
At Airshow China in 2016, Avic also revealed a proposal for a commercial version of the aircraft designated the Y20F-100.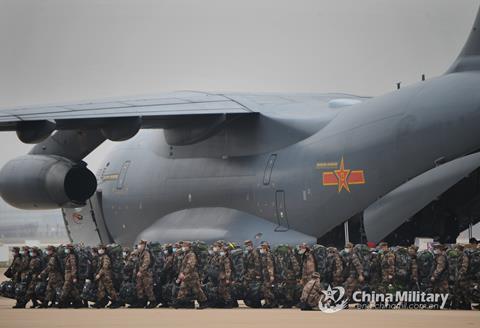 Meanwhile, the People's Liberation Army Air Force (PLAAF) Y-20 fleet has featured prominently in Chinese media coverage about airlift operations to the city of Wuhan, the epicentre of the Coronavirus crisis.
In mid-February East Pendulum – a French web site that monitors Chinese military developments - estimated that PLAAF Y-20s had flown 569 emergency personnel to Wuhan, or 60% of the relief personnel transported by military airlift. It estimated that the IL-76MD, by comparison, flew in 272 personnel, and the Shaanxi Y-9 just 106.
The Y-20, which entered service in 2016, is powered by four Soloviev D-30KP-2 engines, the same powerplant as the IL-76MD. Development work continues on a more powerful indigenous engine, the Shenyang WS-20.