NATO's combined total of 30 full member states includes 28 European nations, in addition to Canada and the USA.
Some 1,781 combat aircraft were in active use with 19 European NATO nations as of 30 September, Cirium fleets data shows. The other nine states – Albania, Estonia, Iceland, Latvia, Lithuania, Luxembourg, Macedonia, Montenegro and Slovenia – all lack such a capability.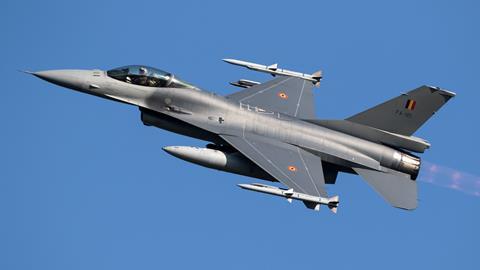 Cirium information shows that there are 16 different combat aircraft types in service with the militaries of Belgium, Bulgaria, Croatia, the Czech Republic, Denmark, France, Germany, Greece, Hungary, Italy, the Netherlands, Norway, Poland, Portugal, Romania, Slovakia, Spain, Turkey and the UK.
Lockheed Martin's F-16 is the most numerous and broadly employed combat type, with 512 aircraft – a 29% share – flown by nine of the nations, plus another 180 which are separately categorised as dedicated training assets. The manufacturer's latest V-model is also on order for future operators Bulgaria and Slovakia.
European NATO combat aircraft fleet
Type
Active
Share
F-16
512
29%
Eurofighter
415
23%
Mirage 2000
166
9%
Rafale
143
8%
Tornado
126
7%
F-4
81
4%
F-18
72
4%
F-35
57*
3%
MiG-29
46
3%
AMX
32
2%
Su-22
32
2%
MiG-21
29
2%
AV-8
26
1%
Gripen
24
1%
L-159
16
1%
Su-25
4
1%
Total
1,781
100%
Note: *Excludes dedicated training assets
Source: Cirium fleets data
Germany, Italy, Spain and the UK fly a combined 415 Eurofighter Typhoons, 23% of the regional total, with a 38-aircraft follow-on purchase recently approved by Berlin, and Madrid also eyeing a potential repeat buy. The other 14 types each account for less than a 10% fleet share, ranging from 166 Dassault Mirage 2000-family jets flown by France and Greece to just four Sukhoi Su-25s, used by Bulgaria.
The use of Soviet-era combat assets among European NATO nations continues to dwindle rapidly, now standing at just 111 aircraft: 6% of the active fleet. This total also includes 46 RAC MiG-29s, 32 Su-22s and 29 Mikoyan MiG-21s, in the inventories of Bulgaria, Croatia, Poland, Romania and Slovakia.