Lockheed Martin recently secured a $50 million US Air Force contract to update the venerable U-2 spy plane.
The project involves three elements: a new avionics suite, a new mission computer, and modern cockpit displays, says Lockheed.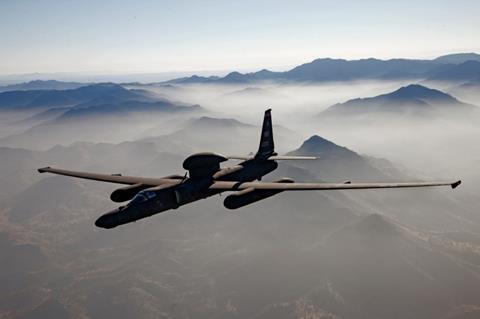 Designed to the new USAF open mission systems (OMS) standard, the new mission computer will allow the aircraft to integrate "with systems across air, space, sea, land and cyber domains at disparate security levels."
"As a proven, agile and reliable aircraft, the U-2S is the most capable high-altitude ISR system in the fleet today," says Lockheed's U-2 program director, Irene Helley. "The Avionics Tech Refresh contract will continue our commitment of providing a premier aircraft to our warfighters, ensuring global security now and into the future."
The work will see the U-2 be the USAF's first OMS-compliant fleet. Lockheed expects interim field to start in mid-2021, with fleet modification to follow in early 2022.
Cirium fleets data shows that the USAF has 30 in-service U-2S aircraft, while NASA operates two examples. The average age of the overall fleet is 36.6 years.
The Lockheed announcement follows a string of recent news involving the U-2, a type that first flew in 1955. In February Lockheed announced that the fleet had completed flight testing and installation of the Collins Aerospace Senior Year Electro-Optical Reconnaissance System (SYERS-2C).
This provides improved tracking of both stationary and moving targets in a wider range of weather conditions.
In 2019 an F-35 fighter, U-2 and a ground station demonstrated a capability to shorten the decision loop involved in detecting and acting upon a long-range missile launch.
In the demonstration, called Project Riot, an F-35 detected a long-range missile launch with its on-board sensors. Via the U-2, it shared the information with the air defense commander on the ground, enabling the commander to quickly make the decision to target the threat.