Lockheed Martin F-35Bs from the Royal Air Force's (RAF's) frontline 617 Sqn have performed the unit's first landings aboard the aircraft carrier HMS Queen Elizabeth.
Four of the UK's Lightning combat aircraft embarked aboard the Royal Navy (RN) vessel on 9 June.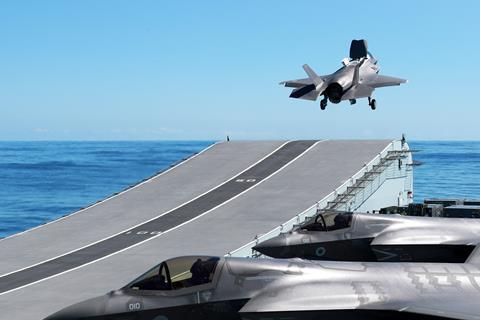 "The F-35 jets that landed on board today will be the same aircraft that will sail next year with the ship for her maiden Global Carrier Strike Group 21 deployment," the navy says.
"HMS Queen Elizabeth will now enter an intense period of flying," the navy says. "The aim is to demonstrate that the jets can successfully defend the aircraft carrier by delivering combat air patrols… and being ready to take off at short notice."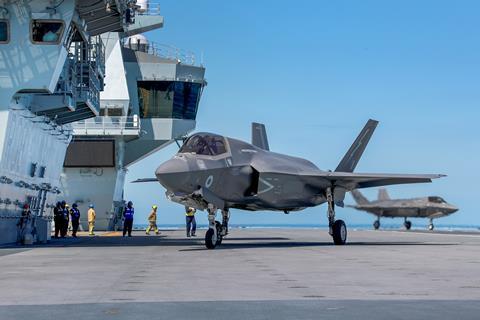 To run until later this month, this activity also will involve "complex training missions" with Leonardo Helicopters AW101 Merlin HM2 rotorcraft from the RN's 820 NAS.
617 Sqn jets will redeploy aboard the 65,000t aircraft carrier later this year, as an RN task group participates in a multinational training exercise with NATO allies including the USA.
The UK's first frontline F-35 Sqn, 617 Sqn is based at RAF Marham in Norfolk. Two earlier series of UK flight trials aboard Queen Elizabeth involved test aircraft based at the US Navy's NAS Patuxent River site in Maryland, and US Marine Corps-owned assets.
Cirium fleets data shows that the UK has so far received 18 of the short take-off and vertical landing F-35B.