Russia still does not control the skies over Ukraine.
That is the conclusion of senior US defence officials, who say the Russian military is attempting to improve the performance of its forces as the war enters a new phase.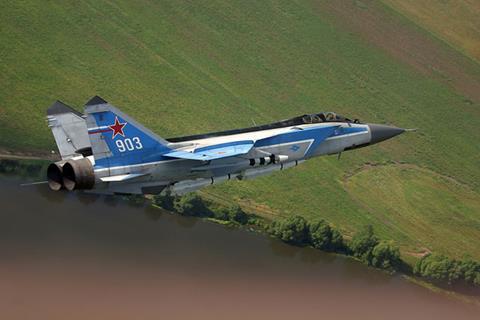 In the opening operations of the invasion, focused largely around Ukraine's capital Kyiv, the Russian air force was noted for its lack of large-scale operations and the apparent hesitancy of pilots to fly effective air support missions over Ukraine.
That trend appears to be continuing, at least in part, as Russian leaders shift the focus of their campaign to the eastern Ukrainian region known as the Donbas.
In a background briefing in Washington on 28 April, a senior US defence official says that the Russian air effort, including cruise missiles and fixed-wing jets, is largely focused around Mariupol, the Miami-sized port city already devastated by Russian bombardment.
The official adds that the continued targeting of Mariupol is an indicator that Russia does not believe it has fully secured the area around the city.
"They are continuing to pound Mariupol with strikes, both air strikes and missile strikes," they said. "You don't do that if you think it belongs to you."
The official also notes that almost all of those strikes are coming from inside Russia.
"They're not taking off and landing in Ukraine," the official notes on background. "Most of them are all coming from inside Russia and then they go back to the airfields in in Russia."
They note that the same is true for missile strikes, which are launched from sites inside Russia, like warships in the Caspian Sea. Russia has launched at least 1,900 missile strikes into Ukraine since the war began.
Ukraine has been effective at using ground-based air defence systems to deny Russian pilots air dominance. Western governments have provided thousands of short-range air defence missiles to Ukraine, and Germany recently announced it will send 50 air defence tanks to the beleaguered nation.
The Ukrainian air force also continues to fly, buoyed by recent deliveries of spare parts for aircraft maintenance and even entire jets.
American officials say the USA is helping supply spare parts, but has not facilitated the transfer of entire combat aircraft. Pentagon spokesperson John Kirby previously confirmed that fixed-wing aircraft were sent to Ukraine, but would not say what type or from where.
The USA has provided Ukraine with Mil Mi-17 utility helicopters originally destined for the defunct Afghan air force.
US officials have thus far been hesitant to directly send heavy weapons like combat jets for fear it will inflame nuclear-armed Russia to widen the conflict.