The first Ukrainian air force (UAF) crews have arrived in the USA for instruction on the Lockheed Martin F-16 fighter jet.
The Pentagon on 28 September confirmed the arrival of aviators from Ukraine, who will receive flight and maintenance training on the fourth-generation fighter as part of a deal between Washington, Kyiv and several European members of NATO.
"English language training has started for several pilots," says Sabrina Singh, deputy Pentagon press secretary.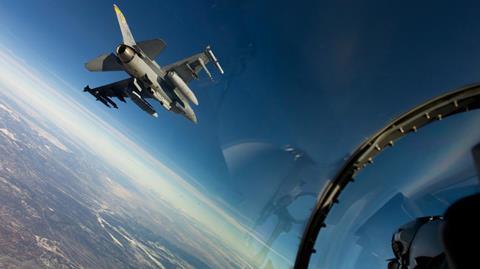 Washington had previously said F-16 training for UAF personnel would be preceded by a block of instruction in the specialised English language terms needed to operate and maintain the F-16.
"The English language training will vary, depending on proficiency and skill," Singh notes. "So [I] don't have an exact timeline of when folks will then move from that training to start pilot training."
Washington in August announced it would host UAF personnel undergoing F-16 instruction, supplementing a similar effort underway in Europe.
"We anticipate it will include several pilots and dozens of maintainers," Pentagon press secretary Brigadier General Pat Ryder said on 24 August.
Initially, the Pentagon said language instruction would begin in September, with the flight training starting in October at Morris Air National Guard Base in Tucson, Arizona.
The training programme in the USA will run in parallel to similar efforts already underway in Europe, overseen by Denmark and the Netherlands.
The two NATO member states have taken the lead in Ukraine's so-called "fighter coalition" effort, being the first countries to pledge training support for Kyiv, as well as lobbying Washington to approve the transfer of American-made F-16s.
Lockheed also plans to establish a multi-national F-16 training centre in Romania, with the goal of offering "comprehensive training solution for Romanian pilots", the company said on 31 August.
The Netherlands will partner with Lockheed and Romania in the effort, in addition to its work with Ukraine.
Lockheed says the planned Romania facility will focus on providing services to Romanian pilots flying and operating F-16s. But, it adds, the site "could eventually expand to include training for other nations".
"Once details are finalised, we are confident the training centre will ultimately benefit Romania and other regional F-16 operators, including potentially Ukraine," says OJ Sanchez, vice-president of Lockheed's integrated fighter group.
The Pentagon has not offered specifics on the total number of pilots and aircraft expected to be covered under the multi-national F-16 deal for Ukraine. Ryder says Kyiv will determine how many pilots it wants to train.
However, domestic politics in Washington may disrupt the effort.
Political gridlock in Congress has left the US government without an approved budget and just days away from a possible shutdown, in which some government functions would cease until a spending deal is reached.
The Pentagon is calling a shutdown the "worst case scenario" for the US military, from a budgetary perspective. While uniformed personnel will continue working without pay, Singh notes programmes such as Ukraine fighter training may still be affected.
"You're going to have a majority of civilian personnel furloughed," she says. "So civilian personnel that are involved in the training of Ukrainian pilots, such as English language training… absolutely there could be impacts to training."
However, the Pentagon has previously said direct military support to Ukraine will continue in the event of a shutdown.
A 12 September Department of Defense (DoD) memo obtained by FlightGlobal notes the "ongoing military operations" will continue, specifically classifying Ukraine support as an "excepted activity" not subject to furlough.
"[The DoD] will continue activities funded with any available budgetary resources that have not lapsed, as well as excepted activities such as those necessary for the safety of human life and the protection of property," the Pentagon says.
The memo notes that active duty troops may serve as stand-ins for furloughed civilian workers to maintain functions subject to disruption.

Ryan Finnerty is the Americas defence reporter for FlightGlobal.com and Flight International magazine, covering military aviation and the defence industry. He is a former United States Army officer and previously reported for America's National Public Radio system in New York and Hawaii covering energy, economics and military affairs.
View full Profile