US Air Force (USAF) Lockheed Martin F-35A Lightning II aircraft have arrived in South Korea for 10 days of drills, the US military headquarters on the divided peninsula said on 5 July.
Six of the fifth-generation strike fighters were flown to the Republic of Korea (ROK) from Eielson AFB in Alaska, according to US Forces Korea (USFK). It marks the first such deployment that has been publicly acknowledged since 2017.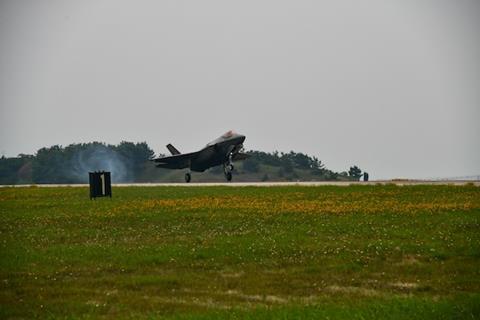 "While in the Republic of Korea, the USAF aircraft plan to operate and fly with several different US and ROK aircraft, to include ROK F-35s," the USFK says.
The military exercises will include familiarisation and routine training flights to enhance the ability of the two air forces to operate on and around the Korean Peninsula, as well as providing an opportunity to practice sustainment and maintenance duties, the USFK adds.
Military exercises between the USA and ROK were curtailed after a diplomatic summit between North Korean leader Kim Jong-Un and then-US President Donald Trump in 2017.
In May, current US President Joe Biden and his ROK counterpart Yoon Suk Yeol indicated a willingness to resume training operations, following a diplomatic meeting in South Korea.
The current exercise is meant to convey "strong deterrence and joint defence posture of the [US-ROK] alliance", according to a statement from the South Korean defence ministry.
The USA and South Korea entered into a mutual defence pact in 1954, following the signing of an armistice in the peninsular war between the North and South that drew in the USA, China and the UN. The two Koreas have technically been in a state of war ever since, with both sides sharing the stated goal of reunification.
Both China and North Korea have been critical of the US military presence in the region, with officials in the North recently claiming that the USA is seeking to create a multi-lateral mutual defence organisation of Indo-Pacific nations, akin to NATO's role in Europe.
Unlike the NATO structure, in Asia the USA currently maintains a series of bilateral defence pacts with regional allies, including Australia, Japan and South Korea.