The US Air Force (USAF) will test a blended-wing aircraft by 2027 that could ultimately serve as an aerial refueller or cargo-transport aircraft.
In a climate action plan released in early October, the service says it has set a goal of completing development and testing of a full-scale prototype of such a jet by the end of that year.
The blended-wing concept falls under a broader initiative to adopt "ultra-efficient aircraft designs", which the USAF says will decrease fuel use and improve combat capability, according to the report.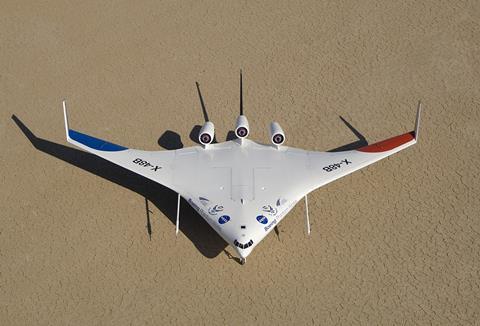 In the document, the service's civilian leader Secretary Frank Kendall says the Pentagon must embrace the reality of climate change and associated challenges. "Our mission remains unchanged, but we recognise that the world is facing ongoing and accelerating climate change," Kendall writes.
He notes that part of that challenge is reducing the USAF's reliance on petroleum-based jet fuel. Aviation fuel currently makes up 80% of the service's total energy usage, according to the climate plan.
A blended-wing-body design "increases aerodynamic efficiency by at least 30% over current air force tanker and mobility aircraft, and enables dramatically greater fuel offload at range to ensure strike capabilities in a contested environment", the report says.
Pursuit of a blended-wing aircraft capable of fulfilling tanker and transport missions could have major implications for aerospace manufacturers.
The USAF is currently acquiring the Boeing KC-46 Pegasus, a derivative of the 767 commercial jet, to partially replace its ageing fleet of Boeing KC-135 Stratotankers. However, the service also plans to develop two more tanker aircraft in the coming years.
One, known as the KC-Y, is meant to serve as a "bridge tanker" between the KC-46 and a still-theoretical next-generation refueller. That platform was originally dubbed KC-Z, but is now known as the Advanced Air Refueling Tanker (AART).
Lockheed Martin has said it intends to propose its "LMXT" design for KC-Y. The LMXT is a modified version of Airbus Defence & Space's A330 multi-role tanker transport, currently in service with the Royal Australian Air Force as the KC-30 and also operated by multiple other nations.
While the USAF intends for the KC-Y bridge tanker to be a commercially-derived airframe, the AART is meant to reach a level of maturity equivalent to stealthy fifth-generation fighters, like Lockheed's F-35. The platform could include advanced technologies like low-observability and autonomous flight.
Exactly where the blended-wing concept fits into the USAF's tanker recapitalisation plan remains unclear.
The USAF says it is collaborating with the Pentagon's Defense Innovation Unit (DIU) and NASA to "accelerate prototyping of ultra-efficient aircraft designs for future tanker and mobility aircraft", for which a blended-wing-body is one potential option.
A contract solicitation posted by the DIU in July called for aircraft design proposals that provide a 30% improvement in aerodynamic efficiency compared to 767s or A330s.
Flight testing a blended-wing prototype by 2027 could indicate the USAF's interest in the concept for the AART programme, possibly enabling the service to bypass the KC-Y programme altogether.
The KC-46 has been plagued by delays and cost overruns stemming from issues with critical systems, including its refuelling boom and proprietary Remote Vision System, used to operate the in-flight refuelling apparatus.
Charges on the programme, for which Boeing is liable under its fixed-price bid, have contributed to substantial financial losses on the aerospace giant's defence businesses.