The US Army's fleet of roadside bomb-hunting turboprops has flown its last mission in the Middle East.
The service said on 11 August that the programme known as Saturn Arch flew its final combat mission for US Central Command (CENTCOM) in July.
Saturn Arch has for more than a decade used a derivative of De Havilland of Canada's Dash 8 turboprop to search for improvised explosives used against ground forces in Afghanistan and Iraq,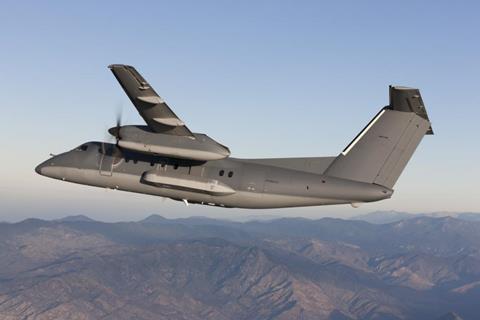 CENTCOM, located in Tampa, Florida, is the military headquarters that oversees combat and intelligence gathering operations in the Middle East and Southwest Asia.
Under Saturn Arch, heavily modified Dash 8s were outfitted with advanced ground-penetrating sensors, including hyper-spectral and electro-optical/infrared cameras, for the purpose of identifying improvised explosive devices (IEDs) buried along routes used by Western ground forces.
"The Saturn Arch programme…was so successful that the army funded it to build up to a fleet of 10 total aircraft over the past 10 years," says Michael Payne, product manager with the army programme office that oversaw the aerial counter-IED effort.
The army assumed control of Saturn Arch from the US National Geospatial Intelligence Agency, which first developed the programme, in 2012.
Multiple contracts to manage the programme, including modification of the Dash 8s and turnkey ground and flight operations, were awarded to Virginia-based Leidos over the life of Saturn Arch.
According to the army, those aircraft successfully operated for more than 10 years, completing about 72,500 mission-hours and generating more than 18,000 intelligence products, which the service says saved the lives of "countless" soldiers.
Saturn Arch aircraft are not being mothballed but rather transferred to the USA as Washington reduces its military footprint in CENTCOM area of responsibility.
The army says it is exploring how it can transition the sensor capabilities of the Saturn Arch Dash 8s to support other projects.