The USA is making a show of aviation force in the Middle East, amid an intensifying war between Israel and militant group Hamas near the Gaza Strip.
The Pentagon's Central Command (CENTCOM), which oversees operations in the region, on 8 October said the US Navy (USN) will deploy its newest aircraft carrier – the USS Gerald R Ford – to the Eastern Mediterranean in an attempt to limit the conflict from spreading.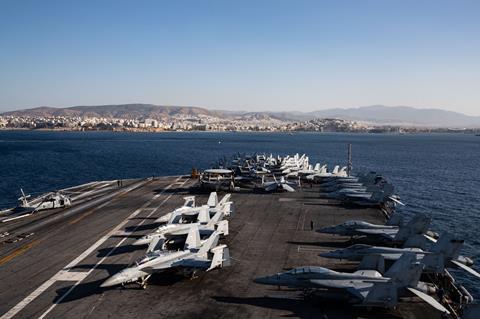 The ship's carrier air wing, which includes four squadrons of Boeing F/A-18 Super Hornet strike fighters and a Boeing EA-18G Growler electronic attack squadron, will be supplemented by ground-based fighters from the US Air Force (USAF).
"We have also taken steps to augment USAF [Boeing] F-15, [Lockheed Martin] F-16 and [Fairchild Republic] A-10 fighter aircraft squadrons in the region," CENTCOM says. "The US maintains ready forces globally to further reinforce this posture if required."
Separately, secretary of defense Lloyd Austin on 8 October said USAF Lockheed F-35 stealth fighters will also flow into the region.
Israeli leaders declared a state of war on 7 October, following a surprise cross-border attack by Hamas that killed at least 700 people and injured more than 2,000, as of 8 October.
The US air power will not be directly supporting Israel's offensive, according to CENTCOM, but will serve as a deterrent to any additional aggression against the American ally.
"US CENTCOM stands firmly with our Israeli and regional partners to address the risks of any party seeking to expand the conflict," says General Michael Kurilla, the four-star officer overseeing Tampa, Florida-based CENTCOM.
Political leaders in Washington were unequivocal in their commitment to Israel, as the deadly Hamas raid unfolded.
"Strengthening our joint force posture, in addition to the materiel support that we will rapidly provide to Israel, underscored the United States' ironclad support for the Israel Defense Forces and the Israeli people," Austin said on 8 October.
In an 8 October call with Israeli defence minister Yoav Gallant, Austin said the US was deploying the military assets to "bolster regional deterrence efforts", according to the Pentagon.
Washington will provide direct materiel support to Tel Aviv "in the coming days", including munitions.
The Gerald R Ford will not have to travel far to reach the waters off Israel.
The carrier was already in the Mediterranean for exercises with European allies. The USN on 5 October said the Ford carrier strike group was in the Ionian Sea working with the Italian navy.
The massive ship is the latest – and most advanced – aircraft carrier in the USN fleet. In addition to carrying approximately 75 combat aircraft in the air wing, the ship is the first to feature an electromagnetic catapult for launching aircraft. Older Nimitz-class carriers use steam-powered launchers.
The Gerald R Ford made its first operational deployment in 2022, according to the navy.