The US government has approved to separate deals to sell India anti-ship missiles and air-launched torpedoes for its fleet of Boeing P-8I Neptune maritime patrol aircraft.
The first possible Foreign Military Sale (FMS) covers 10 Boeing AGM-84L Harpoon Block II missiles and related services and equipment for around $92 million, according to a Defense Security Cooperation Agency (DSCA) notice to Congress.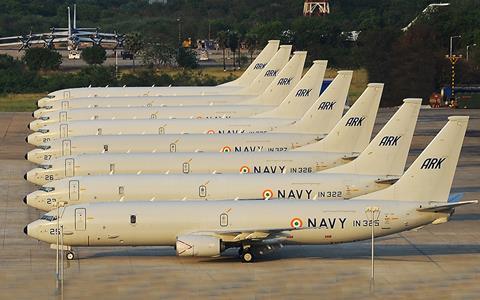 "The proposed sale will improve India's capability to meet current and future threats from enemy weapon systems," says the DSCA.
"The Harpoon missile system will be integrated into the P-8I aircraft to conduct anti-surface warfare missions in defense of critical sea lanes while enhancing interoperability with the United States and other allied forces."
According to Boeing, the Harpoon Block II is an update of the Cold War era missile, and incorporates technology from both the Joint Direct Attack Munition as well as the SLAM-ER missile.
A separate possible FMS deal covers 16 Raytheon MK 54 torpedoes, three exercise torpedoes, and related equipment. The cost of this deal is estimated at $63 million.
In addition to spares, the package also includes accessories for launching the torpedo from the P-8I.
"The MK 54 Lightweight Torpedo will provide the capability to conduct anti-submarine warfare missions," says DSCA. "India will use the enhanced capability as a deterrent to regional threats and to strengthen its homeland defense."
According to Boeing, a single P-8 can carry four Harpoon on its wing-tip stations, as well as five torpedoes.
Cirium fleets data shows that New Delhi operates eight P-8Is.