Two lawmakers in Washington want to start training Ukrainian pilots to fly US-made military aircraft, signalling at least some members of Congress support the US playing a more-direct role in Ukraine's air war against Russia.
Despite such support, however, the US government has signalled no intention of pursuing such a strategy.
Adam Kinzinger of Illinois and Chrissy Houlahan of Pennsylvania, both former US Air Force (USAF) officers and current members of Congress, have sponsored a bill intended to give Ukrainian forces a "decisive advantage in the war", Kinzinger's office says on 17 June.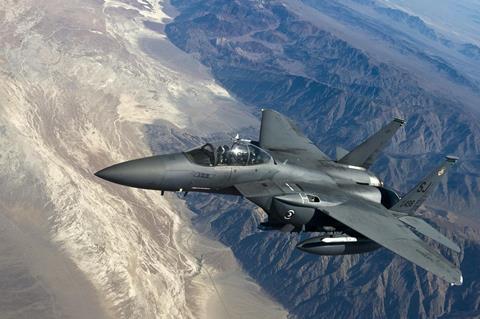 "The Ukrainian military needs our immediate assistance, especially with air assets," says Kinzinger, a former Boeing KC-135 Stratotanker pilot.
The proposed law would authorise the USA to train Ukrainian pilots to fly US military aircraft. Such training would focus on aircraft operation, air-to-air combat and munitions selection.
The bill specifically mentions building familiarity with the Boeing F-15 Eagle and General Dynamics F-16 Fighting Falcon, but does not limit potential instruction to those types. It would provide funding for such training, to an unspecified value.
"We need to rethink our long-term strategic planning to help our Ukrainian allies", Houlahan says. "This includes training pilots on additional aircraft that might become available to them."
The US government has declined to directly provide major combat aircraft to Ukraine, whose military operates Soviet Bloc equipment like Mikoyan and Sukhoi fighter jets.
NATO allies that operate similar equipment, including Poland, have reportedly transferred spare parts and even complete aircraft to Ukraine, with the USA providing logistics support, unmanned aircraft and ground-based weapons.
But the Kinzinger-Houlahan proposal indicates there exists at least limited support in Congress for a more aggressive posture in support of Ukraine.
"It's simple", Houlahan says. "Should our military decide to transfer aircraft, we need [Ukrainian] pilots to be ready to utilise them immediately. Our bipartisan effort will ensure that training happens."
Neither the Pentagon or the White House have yet commented on the idea. Although the president typically organises policy efforts on Capitol Hill, throughout the Ukraine crisis members of Congress have often led the US response, which has received wide bipartisan support.
A 31 March statement from the Ukrainian air force (UAF) released on Twitter calls for greater materiel support to the embattled aviators in the form of fighter jets and surface-to-air missiles.
"We have not received the tools we need to defend our sky and achieve victory," the UAF tweeted. "In the sky, the greatest need is for fighter jets – F-15s and F-16s of the fourth generation or higher would be sufficient."
The statement claims UAF pilots could be re-trained on these platforms in just two to three weeks.
In a 6 April letter to US secretary of defence Lloyd Austin, Houlahan and Kinzinger acknowledged the UAF statement and requested that the Pentagon produce an assessment of training Ukrainian pilots on several American platforms, including F-15s, F-16s, Fairchild Republic A-10 Thunderbolts ground-attack fighters, General Atomics MQ-9 Reaper unmanned combat aerial vehicles and General Atomics MQ-1C Gray Eagle surveillance unmanned aerial vehicles.
The signatories close the letter by saying their intention is to help Ukraine "finally restore their territorial integrity."