The US government has ordered that all Lockheed Martin F-35s be retrofitted to address a "harmonic resonance" engine issue that forced the recent grounding of some but not all the fifth-generation fighters.
That is according to the F-35 Joint Program Office (JPO), which on 2 March said it issued a "Time Compliance Technical Directive" [TCTD] detailing "retrofit procedures".
"While only a small number of aircraft were impacted by the harmonic resonance, the plan is to retrofit the entire fleet, because the retrofit is inexpensive, non-intrusive and supports the JPO's desire to maintain and manage a single configuration across the entire fleet," the office says.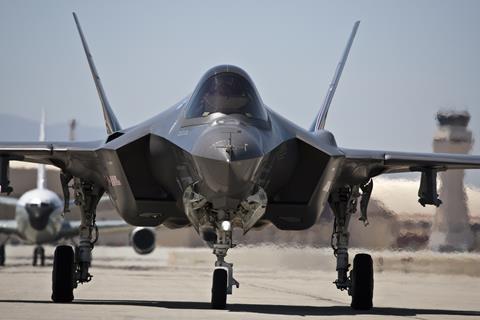 The "retrofit can be performed at the operational level and be completed in four to eight hours", it adds.
The news comes after an executive at Pratt & Whitney (P&W), which manufacturers the F-35's F135 engine, said on 28 February that the company had developed a fix for the harmonic resonance issue.
The issue caused a Lockheed-owned F-35B to crash at its Fort Worth site in Texas on 15 December 2022, prompting Lockheed to halt F-35 deliveries and leading the US government to ground an unspecified number of the aircraft. Neither P&W nor the US government have provided details about the problem or the fix.
The JPO's directive requires "immediate compliance for the small number of aircraft that were restricted from flight. Completion of the procedure will allow these aircraft to resume flight operations.
"The TCTD further recommends the completion of the retrofit procedure within 90 days for all other aircraft, although no flight restrictions are recommended," the office adds. "The JPO will work with the military services and international partners to ensure understanding of the TCTD. The safety of flight crews is the JPO's primary concern."
P&W did not immediately respond to a request for comment.
The global fleet of operational F-35s stands at more than 890 jets, according to Lockheed. The company recently took delivery of the 900th F-35 centre fuselage from supplier Northrop Grumman.
The US military operates about 470 of the jets. Other operators include Australia, Denmark, Israel, Italy, Japan, the Netherlands, Norway, South Korea and the UK.