Aircraft manufacturer Textron Aviation has secured a deal to sell the US Navy (USN) up to 64 Beechcraft King Air 260s, which three US military branches will use for pilot training.
Rhode Island-based Textron said on 16 February that its Wichita-based Textron Aviation business secured the sales contract under the USN's Multi-Engine Training System (METS) programme to procure replacements for Beechcraft T-44C Pegasus trainers.
Deliveries are to start in 2024.
Textron Aviation's vice-president of special mission sales Bob Gibbs says the twin-engined 260s "will modernise multi-engine aircraft training" while also providing an intermediate and advanced level platform for pilot training.
The base contract covers 10 aircraft and is worth $113 million, though the deal gives the USN options to acquire up to 64 260s, worth $677 million, the USN says. The turboprops have been designated "T-54As" for their military service.
The T-44s being replaced by the 260s are derivatives of the twin-engined, pressurised Beechcraft King Air 90, which Textron notes has been is service with the USN since 1977. Beechcraft was acquired in 2014 by Textron, which maintains the brand under its portfolio of aviation products.
The USN says the new aircraft have significant improvements over T-44s.
"The T-54A will include an updated avionics suite, automation qualities and virtual-reality and augmented-reality devices to better prepare students for the advanced aircraft they will fly in the fleet," says Captain Holly Shoger with the US Naval Undergraduate Flight Training Systems office.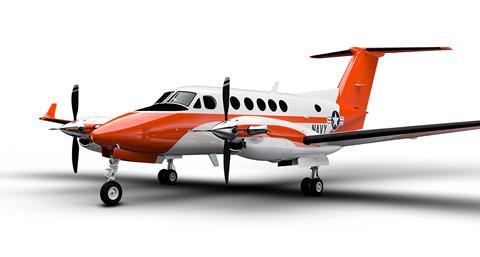 The T-54As are also to serve as initial training aircraft for US Marine Corps and US Coast Guard aviators assigned to fly a range of "non-centerline thrust aircraft", the USN says. Such aircraft could include Boeing's P-8 and E-6, Lockheed Martin's EP-3 and KC-130, Northrop Grumman's E-2 and variants of the Bell Boeing V-22 tiltrotor.
Textron says the METS contract includes factory options for specific capabilities related to tactical air navigation, angle of attack, V/UHF radio, digital audio system, engine trend monitoring, condition-based maintenance, cockpit observer jump seats, passenger mission seats and full-face oxygen masks.
The USN operates 56 T-44s, according to Cirium data. Those will start to be phased out six months after the first T-54 delivery in 2024, the service says.
The new King Air 260s will be produced at Textron's line in Wichita, Kansas.